Mit maritimer Energie die Zukunft sichern
Vortragsveranstaltung an der TU Hamburg am 26. Oktober 2022
12.10.2022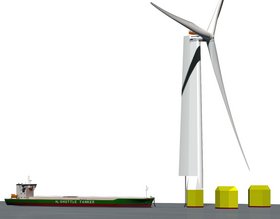 Im Jahr 2021 wurden 19,7 Prozent des deutschen Endenergieverbrauchs aus erneuerbaren Energien gedeckt. Um die ambitionierten EU-Klimaziele zu erreichen und der aktuell herrschenden Energieknappheit entgegenzuwirken, muss dieser Anteil konsequent ausgebaut werden. Welches Potential hinter Offshore-Windenergieanlagen und Wellenkraftwerken steckt, thematisiert die Vortragsveranstaltung "Maritime Energie – Nachhaltige Energieforschung sichert die Zukunft unseres blauen Planeten" der Technischen Universität Hamburg.
Offshore Produktion von grünem Wasserstoff
Um Treibhausgasemissionen zu reduzieren und die Wirtschaft zu dekarbonisieren, ist künftig mit einem erheblich steigenden Bedarf an grünem Wasserstoff aus erneuerbaren Energien zu rechnen. Gleichzeitig sind jedoch die aktuellen Erzeugungskapazitäten sehr begrenzt. Im Rahmen der Vortragsveranstaltung stellen Professor Abdel-Maksoud, Leiter des Institute for Fluid Dynamics and Ship Theory an der TU Hamburg, und Professorin Bienen der University of Western Australia (Perth) daher einerseits die Entwicklung von schwimmenden, und andererseits von feststehenden Wasserstofferzeugungseinheiten für windreiche Seegebiete vor. Die Besonderheit: Diese sollen ohne Netzanbindung außerhalb der konventionellen Standorte für Offshore-Windparks entstehen. Der durch Wind und Wellen erzeugte Wasserstoff soll stattdessen drucklos auf Basis eines flüssigen, organischen Wasserstoffträgers (LOHC) gespeichert werden. Dieser ist schwer entflammbar und eignet sich daher für den gefahrlosen Transport über konventionelle Tankschiffe. An Land kann der Wasserstoff wieder von seinem Träger getrennt werden und als reiner Wasserstoff zur Verfügung stehen.
"Solche autarken, integrierten Anlagen zur Erzeugung und Speicherung von grünem Wasserstoff konkurrieren nicht mit anderen Energieerzeugungsmethoden um Flächen und haben zudem Kostenvorteile gegenüber der Produktion von Wasserstoff aus anderen, erneuerbaren Energiequellen. Bei weltweitem Einsatz wären wir damit technisch in der Lage, einen Großteil des Bedarfs an grünem Wasserstoff kosteneffizient zu decken", sagt TU-Professor Abdel-Maksoud.
Was: TU-Vortragsveranstaltung "Maritime Energie – Nachhaltige Energieforschung sichert die Zukunft unseres blauen Planeten"
Wann: 26. Oktober 2022, 17 Uhr.
Wo: Technische Universität Hamburg, Audimax II, Denickestraße 22, 21073 Hamburg, sowie als Online-Stream.
Anmeldung Online-Stream: https://intranet.tuhh.de/anmeldung/maritime_energie_online
Anmeldung Präsenz: https://intranet.tuhh.de/anmeldung/maritime_energie_praesenz
---
TUHH - Public Relations Office
Franziska Trede
E-Mail: franziska.trede@tuhh.de
Phone: +49 40 428 78 3458