TUHH Prof. Andreas Liese in den Vorstand der DECHEMA gewählt
Der Chemiker wird die Positionen von Wissenschaft und Technik bei Politik, Förderorganisationen und in der Öffentlichkeit vertreten
11.12.2013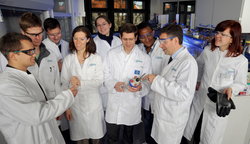 TUHH-Professor Andreas Liese ist in den Vorstand der DECHEMA Gesellschaft für Chemische Technik und Biotechnologie e.V. gewählt worden. Vom 1. Januar 2014 an wird er der Gruppe Wissenschaft vorstehen. Liese leitet das TUHH-Institut für Technische Biokatalyse der Technischen Universität Hamburg. Seine Spezialgebiete sind die Technische Biokatalyse, Bioprozessentwicklung und die Online-Analytik für Biotransformationen.
Prof. Liese: "Die DECHEMA ist aus meiner Sicht die ideale Wirkungsstätte, um die Verknüpfung zwischen Industrie und Akademia voran zu treiben. Hier werden Fachleute unterschiedlicher Disziplinen, Institutionen und Generationen zusammengeführt, um den wissenschaftlichen Austausch in chemischer Technik, Verfahrenstechnik und Biotechnologie zu fördern - so wie es in keiner anderen vergleichbaren Gesellschaft geboten wird."
Die DECHEMA sucht nach neuen technologischen Trends, bewertet diese und begleitet die Umsetzung von Forschungsergebnissen in technische Anwendungen. Über 5.800 Ingenieure, Naturwissenschaftler, Studierende, Firmen und Institutionen gehören dem gemeinnützigen Verein an.
Während seiner Amtszeit als Vorstandsmitglied wird Liese als ein Verfechter der interdisziplinären Forschung aktuelle Trends der Biotechnologie, Prozesstechnik und Verfahrenstechnik verfolgen, kritisch hinterfragen und damit Zukunftsperspektiven für Forschung und Entwicklung beschreiben. "Wichtig ist es, die Positionen von Wissenschaft und Technik bei Politik, Förderorganisationen und in der Öffentlichkeit zu vertreten, Empfehlungen zu geben und Forschungsinitiativen zu starten, um so die Gesellschaft für die Bedeutung industrieller Biotechnologie und Prozesstechnik zu sensibilisieren", so Andreas Liese.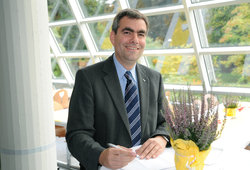 Der Chemiker will Impulse für eine Verbesserung der Kommunikation zwischen den Natur- und Ingenieurswissenschaften geben.
Prof. Andreas Liese, Jahrgang 1966, hat Chemie an der Friedrich-Wilhelms Universität in Bonn studiert. Von 1994 bis 1998 promovierte der gebürtige Rheinländer am Institut für Biotechnologie II unter der Leitung von Prof. Dr. C. Wandrey im Forschungszentrum Jülich. Sowohl die Diplom- als auch die Doktorarbeit, welche sich mit der Reaktorentwicklung für Prozesse der Weißen Biotechnologie beschäftigten, wurden in Kooperation mit der Chemiefirma DSM, Niederlande, durchgeführt. Von 1998 bis 2003 hat er im Jülicher Institut die Enzymgruppe geleitet. Im Jahr 2000 arbeitete Liese für ein halbes Jahr bei Pfizer Global Research & Development in San Diego, USA und war Mitbegründer der dortigen Biokatalysegruppe. Seine Habilitation beendete er 2003 in "Technischer Chemie" und "Biotechnologie" an der Universität Bonn. Im gleichen Jahr erhielt er den Hochschullehrer-Nachwuchspreis der DECHEMA und nahm den Ruf auf eine Professur für Biotechnologie an die Westfälische Wilhelms-Universität Münster an. 2004 folgte er dem Ruf an die Technische Universität Hamburg. Seit 2005 ist er gewähltes Mitglied des Vorstands der Fachgemeinschaft Biotechnologie der DECHEMA und war von 2008 - 2013 Mitglied des Vorstands der Deutschen Gesellschaft für Katalyse. Seit 2007 ist Prof. Liese Technologiekoordinator für "Biokatalyse" im Cluster BIOKATALYSE2021. Er ist Autor dreier Bücher ("Industrial Biotransformations", "Biological Principles Applied to Technical Asymmetric Catalysis" und "Biocatalysis for the Pharmaceutical Industry") über Verfahren der Weißen Biotechnologie.
---
TUHH - Public Relations Office
Martina Brinkmann
E-Mail: pressestelle@tuhh.de