Klassisch bis überraschend rockig: Weihnachtskonzert an der TUHH mit SingING
03.12.2013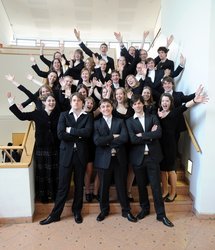 Das gab es noch nie! SingING, der a cappella Chor der Technischen Universität Hamburg, tritt erstmalig mit weihnachtlichem Programm auf. Mit vielen neuen Erfahrungen, Ideen und Erwartungen im Gepäck gibt SingING gleich zwei Weihnachtskonzerte:
Sonntag, 8.12.2013, 17:00
Heilig-Geist-Kirche Bokhorst, Kirchenweg 24, Bokhorst
Shuttle-Service: Bahnhof Neumünster - Kirche Bokhorst
E-Mail bis 06.12.13 an singing@tuhh.de
Dienstag, 10.12.2013, 19:30
Audimax 2, Gebäude I, Denickestraße 22, Hamburg
Ein halbes Jahr nach der Jubiläums-Konzertreihe präsentiert SingING nun eine vielfältige Sammlung an Stücken, die klassisch bis rockig auf den Advent und Weihnachten einstimmen. "Hören und erleben Sie ein fesselndes "Carol of the Bells", ein verzauberndes "Maria durch ein Dornwald ging" und lachen sie mit uns bei "Wir schenken uns nix". Lassen Sie sich schließlich überraschen wie "Leise rieselt der Schnee" gar nicht leise klingt… Wir können es kaum erwarten! " sagt Chorleiter Dennis Bischoff.
SingING, bestehend aus überwiegend Studenten und Mitarbeitern der TUHH, gab sein Debut auf dem Sommerfest 2008 der TUHH. Seitdem bereichert er mit seinem bis zu siebenstimmigen Gesang zahlreiche Veranstaltungen der TUHH, wie die jährlichen Semestereröffnungen, Absolventenfeiern und weitere Festakte. Darüber hinaus ist SingING auch auf Events wie der Nacht des Wissens oder der SuedKulturNacht anzutreffen. Die Anzahl der aktiven SingINGs hat sich in den vergangenen Jahren auf etwa vierzig Sänger eingependelt, die Zahl der Auftritte auf sechs bis acht pro Jahr - Tendenz steigend! Der Chor singt alles, was Spaß macht: Pop, Jazz, Gospel, Altes, Modernes und Weihnachtliches ... Hauptsache passend zu der vierstimmigen Besetzung.
Wer SingING kennt, weiß: Wir haben Spaß am Singen und reißen die Zuhörer mit. Wir freuen uns auf alte und neue Gesichter und eine kleine Spende, um neue SingING-Projekte damit zu unterstützen. Die Konzerte finden im Rahmen von TUHH goes music statt, mit freundlicher Unterstützung des AStA TUHH und des Präsidiums.
Der Eintritt für die Weihnachtskonzerte ist frei!
Gerne können Besucher eine kleine Spende hinterlassen, um dieses und zukünftige Projekte zu unterstützen.


---
TUHH - Public Relations Office
Martina Brinkmann
E-Mail: pressestelle@tuhh.de