TUHH goes music
Ein anspruchsvolles Programm eröffnet die neue Musiksaison
25.11.2013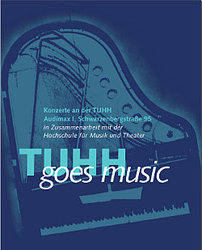 Die Musiksaison im Wintersemester 2013/14 der Technischen Universität Hamburg ist eröffnet. Die Reihe "TUHH goes music" startet am Mittwoch, 27. November, 19 Uhr im Audimax I der Technischen Universität Hamburg, Schwarzenbergstraße 95.
Den ersten Teil des anspruchsvollen Konzertprogramms gestaltet der Pianist Ivan Rudin. Zur Aufführung kommen Werke von Sergei Prokofiev, Claude Debussy und Franz Liszt. Den Abend eröffnet Rudin mit Prokofievs Klaviersonate Nr. 7. Für diese Sonate wurde ihm der Stalin Preis verliehen. Sie gilt als eine von drei sogenannten Kriegs-Sonaten, die Prokofiev zwischen 1939 und 1942 komponierte. Es folgen Images (dt. Bilder), Klavierstücke des französischen Komponisten Claude Debussy (1862-1918), dem es gelang, an der Schwelle zur Moderne dem Klavier neue Klang- und Ausdruckswelten zu erschließen. Dabei ließ er sich von literarischen Ideen ebenso inspirieren wie von visuellen Eindrücken und Werken der bildenden Kunst. Rudin schließt sein Spiel mit dem Mephisto Walzer, einem virtuosen Stück für Klavier von Franz Liszt (1811-1886), des wohl prominentesten Klaviervirtuosen des 19. Jahrhunderts.
Im Mittelpunkt des zweiten Programmteils stehen die Pianistin Salome Jijeishvili und der Cellist Michael Heupel. Sie spielen eine Debussy-Sonate für Violoncello und Klavier, die Sonate Nr. 5 in D-Dur op. 102,2 für Cello und Klavier von Ludwig van Beethoven (1770-1827) sowie Robert Schumanns Cellokonzert "5 Stücke im Volkston". Die 1849 entstandenen Stücke zählen zum Standartrepertoire der Cellisten.
Der Pianist Ivan Rudin wurde 1982 in eine Musikerfamilie hineingeboren. Er studierte an der Gnessin Spezialmusikschule in Moskau Klavier und trat bereits mit 10 Jahren zum ersten Mal mit Orchester auf. Er blickt auf eine umfangreiche Konzertkarriere zurück mit Auftritten in Russland, USA, China, Europa, Taiwan, und Japan. Er ist vielfach ausgezeichnet und erhielt unter anderem den 3. Preis beim Maria Callas Granz Prix 2010 in Griechenland oder den 2. Preis im Internationalen Klavier Wettbewerb in Cantu-Como / Italien 2007. Auftreten ist er gemeinsam mit beispielsweise Yuri Baskmet, Natalia Gutman, Eduard Brunner und Justus Franz. 2012 wurde er in der Klasse von Prof. Evgeni Koroliov aufgenommen. Derzeit bereitet sich Rudin auf sein Konzertexamen vor.
Michael Heupel, geboren 1988 in Athen, besuchte als Kind das Zeitgenössische Konservatorium in Athen, wo ihm das Violoncello-Diplom mit der Note "Einstimmig Hervorragend" sowie der 1. Preis und die Goldmedaille des Konservatoriums verliehen wurden. An der Hochschule für Musik und Theater Hannover studierte Heupel bei Prof. Tilmann Wick. Sein Diplom hat mit der Note 1,0 im Hauptfach Violoncello bestanden. Seit 2011 lernt er bei Arto Noras und Niklas Schmidt an der Hochschule für Musik und Theater Hamburg als Masterstudent. Er ist Träger des Stipendiums der Alexander S. Onassis Stiftung für das Studienjahr 2012/13. Der gefragte Solist und Kammermusiker tritt auf Internationalen Musik Festivals auf. 2009 wurde er zur UN-Klimakonferenz in Kopenhagen eingeladen, um dort ein Solokonzert unter dem Namen "The planet"s deep expectations" zu geben. Heupel spielt auf einem Instrument aus dem Jahre 1723.
Salome Jijeishvili wurde 1987 in Tiflis geborgen. Ihren ersten Klavierunterricht erhielt sie von der Mutter im Alter von fünf Jahren. Die Eltern schickten Salome mit sechs Jahren neben der allgemeinen Schule auch zur S. Tsintsadze Tiflis School of Art, wo sie Unterricht in Malerei, Chorgesang, Klavier und Tanz erhielt.
Als 14-Jährige besuchte sie neben der Regelschule eine Schule für musisch begabte Kinder. Die breite pianistische Ausbildung schloss sie 2005 mit einem Diplom ab. Daran schloss sich ein Studium am V. Sarajishvili Tbili State Conservatoire, das sie 2009 mit dem Bachelor Degree abschloss. Von 2011 bis 2013 setzte sie ihr Studium Dank eines DAAD-Stipendiums bei Ralf Nattkemper an der Hochschule für Musik und Theater Hamburg fort und schloss es im Sommer 2013 mit dem Master of Music ab.
Das Konzert findet in Kooperation mit der Hochschule für Musik und Theater in Hamburg statt. Freunde der Musik sind herzlich eingeladen.


Der Eintritt ist frei.
Text: Martina Brinkmann
---
TUHH - Public Relations Office
Sarah El Jobeili
E-Mail: pressestelle@tuhh.de