TUHH-Nachwuchswissenschaftler Mayolo Alberto Lopez Castellanos mit Wissenschaftspreis Logistik 2013 ausgezeichnet
22.11.2013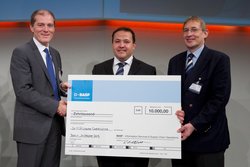 Für seine Dissertation zum Thema "Agent Based Simulation Approach to Assess Supply Chain Complexity and its Impact on Performance" am Institut für Logistik und Unternehmensführung, wurde der TUHH-Wissenschaftler Dr.-Ing. Mayolo Lopez Castellanos von der Bundesvereinigung Logistik mit dem Wissenschaftspreis Logistik 2013 ausgezeichnet. Zuvor überzeugte er während des 30. Deutschen Logistik-Kongresses in Berlin die Jury mit seinem Vortrag und setzte sich so gegen zwei weitere Finalisten durch. Betreut wurde seine Arbeit von Prof. Wolfgang Kersten, Leiter des Instituts für Logistik und Unternehmensführung, der den Nachwuchswissenschaftler bei der BVL für den Wissenschaftspreis Logistik 2013 vorgeschlagen hatte.
In seiner Dissertation greift der TUHH-Wissenschaftler die für viele Unternehmen immer stärker in den Fokus rückende Frage auf, inwieweit sich die strukturelle Komplexität von Versorgungsketten besser beherrschen lässt und wie sich diese auf die Leistungsfähigkeit der Wertschöpfungskette auswirkt. Hintergrund seiner Arbeit ist die seit Jahren zunehmende Anzahl an unterschiedlichen Produkten, Produktvarianten, aber vor allem auch die seit Jahren steigende Verlagerung von einzelnen Wertschöpfungsteilen an Partnerunternehmen. Hierfür entwickelte Dr. Mayolo Lopez Castellanos für die Logistik einen neuartigen Ansatz zur Analyse der Komplexität in der Wertschöpfungskette. Er erarbeitete das Simulationsmodell Supply Chain Building Blocks (SCBB), mit dessen Hilfe dieser neue Ansatz detailliert eingesetzt werden kann. "Diese Auszeichnung ist für mich nicht nur eine Bestätigung meiner Arbeit, sondern treibt mich auch weiter an, nach höheren Zielen zu streben und immer mein Bestes zu geben", sagte Mayolo Lopez Castellanos.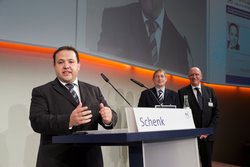 Der Wissenschaftspreis Logistik wird alljährlich von der BVL ausgeschrieben und ist mit 10.000 Euro für den Preisträger sowie 10.000 Euro für das betreuende Institut dotiert. Gesponsert wurde das Preisgeld in diesem Jahr von der BASF. Zugelassen sind Bewerber aller Bereiche der Logistik mit ihren Dissertationen oder Habilitationsschriften. Zudem müssen die wissenschaftlichen Arbeiten einen praxisnahen Bezug zu logistischen Fragestellungen aufweisen.
Weitere Fragen:
Bundesvereinigung Logistik
Presse- und Öffentlichkeitsarbeit
Ulrike Grünrock-Kern
Telefon: 0421/173 84 21
See also: http://www.bvl.de/wpl
---
TUHH - Public Relations Office
Sarah El Jobeili
E-Mail: pressestelle@tuhh.de