International besetzte Expertenrunde tauschte an der Technischen Universität Hamburg neueste Erkenntnisse über Ölkatastrophen in der Tiefsee aus
In einem einzigartigen Tiefseelabor gelingt es TUHH-Wissenschaftlern, die "Deepwater-Horizon Katastrophe" nachzustellen
07.09.2013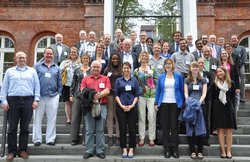 Am 4. September 2013 fand an der TUHH das "1st Hamburg Symposium on Deep-Sea Oil Spills" statt. Auf der eintägigen Konferenz tauschten über 45 Wissenschaftler und Industrievertreter aus den USA, Holland, Kanada, Frankreich, Deutschland und der Technischen Universität Hamburg neueste Erkenntnisse zu den Folgen der Deepwater Horizon-Katastrophe im November 2010 aus. "Ziel ist es, die physikalischen, chemischen, biologischen und geologischen Vorgänge während des Öltaustritts in der Tiefsee und die Folgen der Ölverschmutzen für die Umwelt zu untersuchen", sagt Prof. Dr.-Ing. Michael Schlüter, Leiter des Instituts für Mehrphasenströmungen. Nach Angaben der US-Regierung sind damals insgesamt etwa 780 Millionen Liter Rohöl ins Meer geflossen. Es handelt sich um die bislang größte Ölkatastrophe auf dem Meer.
Seit über einem Jahr beschäftigen sich Wissenschaftler aus der Technischen Universität Hamburg mit dem Unglück. Schlüter: "Wir besitzen ein einzigartiges Tiefseelabor, in dem sich die Tiefseekatastrophe nachstellen lässt und wir messen können, wie sich Öl und Gase bei Drücken von 150 Bar - das entspricht etwa dem Druck aus 80 Autoreifen - in einer Tiefe von 1500 Metern verhalten."
In den drei Konferenzen innerhalb des Symposiums wurden Mehrphasenströmungen unter Tiefseebedingungen, Apparaturen und Messtechniken für Hochdruckanwendungen und neue Erkenntnisse zum biologischen Abbau von Öl unter Tiefseebedingungen präsentiert und diskutiert. Die Konferenz ist Teil des an der TU laufenden Projekts "Center for Integrated Modeling and Analysis of the Gulf Ecosystem" (C-IMAGE). Darin untersuchen die TUHH-Institute für Produktentwicklung und Konstruktionstechnik (mit Prof. Dr.-Ing. Dieter Krause und Prof. Dr. Giselher Gust), für Technische Biokatalyse (mit Prof. Rudolf Müller) und für Mehrphasenströmungen das Ausbreitungsverhalten und den biologischen Abbau von Öl. "In diesen drei Bereichen verfügt die TUHH über eine hohe und weltweit geschätzte Expertise. Als einzigartig lässt sich darüber hinaus die das Dekanat übergreifende Zusammenarbeit bezeichnen", so Michael Schlüter.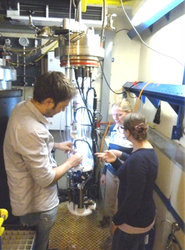 Eröffnet hatte Dr. Steven Murawski vom College of Marine Science der Universitiy of South Florida die hochkarätig besetzte Konferenz mit Teilnehmern aus fünf Ländern, zehn europäischen Agenturen, drei von der Gulf of Mexico Research Initiative (GoMRI) geförderte Konsortien sowie privaten Technologie- und Geräteherstellern. Dr. Murawski: "Das ist eine fantastische Gelegenheit, um die Forschungsprojekte, die unserer europäischen Partner übernommen haben, zu koordinieren ... Darüber hinaus werden Diskussionen um die laufenden Forschungsarbeiten während des Symposiums entscheidend dazu beitragen, sowohl die Natur als auch die Konsequenzen der Ölkatastrophe besser zu verstehen. Mit diesen Erkenntnissen wollen wir die Offshore-Öl-Industrie dabei unterstützen, die Auswirkungen solcher Vorfälle in Zukunft zu verringern."
Das Projekt C-IMAGE wird von der amerikanischen Gulf of Mexico Research Initiative über drei Jahre mit elf Millionen US-Dollar gefördert.
Hinweis: Vortrag auf der "Nacht des Wissens" am 2.11.2013:
Die Ölkatastrophe ins Labor geholt ? Wo bleibt eigentlich das Öl nach der Umweltkatastrophe?
Dipl.-Ing. Katrin Laqua,
Karen Malone (M.Sc.)
Institut für Mehrphasenströmungen
Die Explosion der Ölbohrplattform "Deepwater Horizon" im Golf von Mexiko verursachte 2010 eine der schwersten Ölkatastrophen in der Geschichte, bei der mehr als 700 Mio. Liter Öl ins Meer strömten. Doch was passiert mit dem Öl im offenen Meer, wie kann es effektiv bekämpft werden? Wir stellen die Ölkatastrophe im Labor unter künstlichen Tiefseebedingungen nach und entwickeln Modelle zur Beschreibung der Ölausbreitung im Meer.
18:00 Uhr, Raum 0.01/0.02, Gebäude H
19:30 Uhr, Ditze-Hörsaal (Raum 0.16), Gebäude H
---
TUHH - Public Relations Office
Martina Brinkmann
E-Mail: pressestelle@tuhh.de