TUHH und die renommierte Aalto Universität Helsinki intensivieren ihre Zusammenarbeit
Vizepräsident Jürgen Grabe: "Diese Kooperation soll nun mit Leben gefüllt werden."
29.08.2013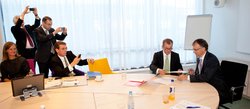 Als Mitglied einer wissenschaftlichen Delegation reiste TUHH-Vizepräsident Jürgen Grabe gemeinsam mit Hamburgs Erstem Bürgermeister Olaf Scholz nach Finnland. Während des Besuchs der renommierten Aalto Universität in Helsinki unterzeichneten Professor Grabe und Aalto-Vizepräsident Hannu Seristö ein Memorandum of Understanding. Darin erklären die beiden Universitäten ihre Absicht, zukünftig die Zusammenarbeit zwischen Dozenten und Mitarbeiter, Abteilungen und Forschungseinrichtungen in den Bereichen Grüne Technologie, Life-Science-Technologie (insbesondere der Medizintechnik), Luftfahrt und Maritime Systeme sowie dem Gründertum intensiver zu fördern. Gleiches gilt für die Aktivitäten hinsichtlich der mit Aalto bestehenden Erasmus-Partnerschaften, dem Programm der Europäischen Union zur Hochschulzusammenarbeit in Europa. Austauschmöglichkeiten dieser Art pflegt die Technische Universität mit mehr als 50 europäischen Hochschulen.
"Diese Kooperation soll nun mit Leben gefüllt werden. Dies verbinde ich mit dem Wunsch, dass sich mit der Erneuerung des Abkommens unsere Zusammenarbeit in den kommenden Jahren und Jahrzehnten fortsetzt und verstärkt", sagte Prof. Dr.-Ing. Jürgen Grabe während der Vertragsunterzeichnung.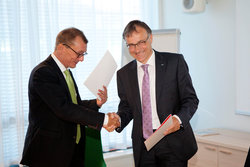 Aalto ist eine junge Universität. Erst 2010 hat sie in Helsinki ihren Lehrbetrieb aufgenommen. Sie ist keine Universitätsneugründung im klassischen Sinne, sondern ein Zusammenschluss der ehemaligen HUT (Helsinki University of Technology), der Helsinki School of Economics und der University of Art & Design.
Die TUHH kooperierte seit den 90er Jahren mit der TU Helsinki und hatte dieses damals vertraglich vereinbart. Mit der Aalto-Universität pflegte sie bisher vornehmlich einen Studierendenaustausch. Pro Jahr besuchen zwei bis drei Studierende die finnische Universität, ein bis zwei kommen an die TUHH. Kontakte im Bereich Forschung gibt es darüber hinaus im Schiffbau sowie im Bereich Informations- und Kommunikationstechniken. Mit der Unterzeichnung des Memoradums of Understanding bricht für beide Universitäten eine neue Zeitrechnung an.
Ein weiteres Mitglied der Delegation war Monica Schofield, Director International Cooperation & EU Office bei der TuTech Innovation GmbH. Die Kontaktpflege stand für sie im Vordergrund, denn "bei der TuTech leben wir von Vernetzung. Das ist besonders wichtig im Bereich unserer Dienstleistung für die Wissenschaftler und Wissenschaftlerinnen an der TUHH - besonders bei Forschungsanträgen im Rahmen von Horizon 2020." Sie zeigte sich beeindruckt vom Geist des Unternehmertums, der an Aalto gepflegt wird und interessierte sich im Besonderen auch dafür, wie die junge Universität ihre Internationalisierung vorantreibt.
Info
Die neue Universität Aalto wird als "Innovationsuniversität" in Form einer privatrechtlichen Stiftung betrieben. Ziel des Zusammenschlusses ist es, eine multidisziplinäre, innovative Lehr- und Forschungsstätte zu errichten, die bis 2020 zu den Spitzenuniversitäten der Welt gehören soll. Die Aalto-Universität soll durch Forschung auf Weltklasseniveau maßgeblich die Entwicklung der finnischen Technologieindustrie und der nationalen Wettbewerbsfähigkeit beeinflussen. Rund 20.000 Studierende und 366 Professoren zählt Aalto.
Finnische Forschung zählt in vielen Bereichen zur Weltspitze.Zu diesen Bereichen gehören insbesondere Forstbewirtschaftung, neue Materialien, Umwelttechnik, neuronale Netze, Tieftemperaturphysik, Hirnforschung, Biotechnologie, Gentechnik und Kommunikation. Internationale Evaluationen von Innovation, Forschung und Entwicklung, Technologie und Wettbewerbsfähigkeit haben gezeigt, dass Finnland in diesen Bereichen seit Jahren zu den weltweit führenden Ländern gehört.
---
TUHH - Public Relations Office
Martina Brinkmann
E-Mail: pressestelle@tuhh.de