Prof. Raimund Horn neuer Leiter des Instituts für Chemische Reaktionstechnik
06.08.2013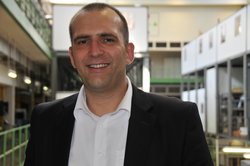 Seit Juli 2013 erweitert Prof. Dr. Raimund Horn die Professorenschaft der Technischen Universität Hamburg und löst als neuer Leiter des Instituts für Chemische Reaktionstechnik seinen Vorgänger Prof. Dr. Frerich Keil ab. Im Rahmen seiner neuen Tätigkeit will der Chemiker an Verbesserungsmöglichkeiten in der heterogenen Katalyse forschen: "In 90 Prozent aller großtechnischen Prozesse werden in der Industrie Katalysatoren eingesetzt, um chemische Reaktionen zu beschleunigen und in eine bestimmte Richtung zu lenken", sagt Raimund Horn. "Mithilfe verschiedener Experimente und Simulationen möchte ich am Institut untersuchen, wie sich heterogene Katalysatoren auf die lokalen Temperatur-, Druck- und Konzentrationsbedingungen in einem technischen Reaktor einstellen und wie diese Bedingungen gestaltet werden müssen, damit der Katalysator optimal arbeitet." Neben seinen Forschungsarbeiten wird er Vorlesungen zur Chemischen Reaktionstechnik sowie ab dem Wintersemester 2014/2015 auch Lehrveranstaltungen zur heterogenen Katalyse anbieten.
Nach seiner Promotion an der Technischen Universität Berlin und dem Fritz-Haber-Institut der Max-Planck-Gesellschaft forschte Raimund Horn zunächst als Alexander-von Humboldt-Stipendiat im Department of Chemical Engineering & Materials Science der University of Minnesota in den USA. Nach zwei Jahren kehrte er nach Berlin zurück und leitete am Fritz-Haber-Institut der Max-Planck-Gesellschaft die durch die Deutsche Forschungsgemeinschaft geförderte Emmy Noether-Nachwuchsgruppe "Hochtemperaturkatalyse". Mit dieser Gruppe war er von 2008 bis 2013 auch im Berliner Exzellenzcluster "Unifying Concepts in Catalysis - UniCat" tätig. "Durch die großzügige Förderung seitens der DFG und UniCat, konnte ich fünf Jahre lang mit einer Gruppe von zeitweise drei Doktoranden und drei Postdocs ungestört forschen", erzählt er. Ziel der Forschung war ein mechanistisches Verständnis der chemischen und physikalischen Prozesse in katalytischen Hochtemperaturreaktionen an Edelmetall- bzw. Metalloxidkatalysatoren. Parallel dazu hielt er Vorlesungen an der TU Berlin in technischer und physikalischer Chemie sowie an der Humboldt Universität Berlin in physikalischer Chemie. Mit Ablauf der Emmy-Noether-Förderung wechselte er als Professor an die Technische Universität Hamburg: "Die TU Hamburg hat mich schwer beeindruckt", sagt der gebürtige Thüringer. "Nicht nur die Ausstattung und Technik ist bemerkenswert, sondern auch die Leistungsfähigkeit dieser Universität und was aus dem Bereich der Drittmittel reinfließt." Zudem sei er von dem unternehmerischen Denken der TUHH begeistert und dem damit verbundenen Wissenstransfer durch die TuTech Innovation GmbH. Dies sei vor allem für Kooperationsprojekte mit der Industrie hervorragend.
Um einen intensiveren Austausch mit anderen Instituten zu ermöglichen, will er im Rahmen seiner neuen Tätigkeit eine stärkere Vernetzung vorantreiben: "Es gibt viele Anknüpfungspunkte", sagt Prof. Horn. "Ich freue ich mich sehr, dass ich hier sein kann."
---
TUHH - Public Relations Office
Sarah El Jobeili
E-Mail: pressestelle@tuhh.de