TUHH Ringvorlesung
"Globale Energieverbrauchsentwicklung - Beeinflusst sie unser zukünftiges Energiesystem?"
06.06.2013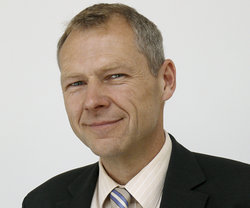 Die globale Energieverbrauchsentwicklung und wie sie unser zukünftiges Energiesystem beeinflusst steht im Mittelpunkt des sechsten Teils der insgesamt elfteiligen Ringvorlesung "Energiewende - Stand und Herausforderung" an diesem Freitag. Es referiert Prof. Dr.- Ing. Manfred Fischedick. Fischedick ist Vizepräsident und Mitglied der Geschäftsführer des Wuppertal Instituts für Klima, Umwelt, Energie GmbH. Er leitet zudem die Forschungsgruppe "Zukünftige Energie- und Mobilitätsstrukturen".
Prof. Fischedick hat Verfahrenstechnik an der Technischen Universität Dortmund studiert und an der Universität Stuttgart im Bereich Energietechnik/-wirtschaft promoviert. Er hat mehr als 20 Jahre Projekterfahrungen im Bereich der Energiewirtschaft und -systemanalyse gesammelt, ist Mitglied zahlreicher wissenschaftlicher Organisationen (z.B. koordinierender Leitautor im Weltklimarat) und Beiräte sowie Autor verschiedener Bücher und Fachartikel. Er ist Professor in der Schumpeter School of Business and Economics und beschäftigt sich dort u.a. mit der dynamischen Entwicklung von Märkten und den unternehmerischen Chancen im Bereich von Clean Technologies.
Fischedick stellt innerhalb des Vortrags die Energiewende in Deutschland in den europäischen und globalen Kontext. Er zeigt die aktuellen Entwicklungstendenzen auf der internationalen Ebene im Bereich Energieverbrauch und -bereitstellung auf und analysiert, welche Handlungsnotwendigkeiten sich weltweit ergeben, um auf einen klimaverträglichen Pfad umzuschwenken. Dabei wird deutlich, dass viele der in Deutschland als Schlüsseltechnologien diskutierten Optionen auch und gerade auf globaler Ebene eine hohe Relevanz haben. Fischedick: "Dies stärkt das Argument, dass Deutschland als Vorreiter einer mit Zeitverzögerung folgenden weltweiten Energiesystemtransformation große industriepolitische Chancen hat. So wird davon ausgegangen, dass sich die jährlichen Investitionen in Energietechnologien bis 2050 in etwa verdreifachen und der überwiegende Anteil des Zuwachses auf die Bereiche Energieeffizienztechnologien und Erneuerbare Energien entfallen werden."
Auf europäischer Ebene stehe die Umsetzung vergleichbar ambitionierter Klimaschutzziele wie in Deutschland seit längerem auf der Tagesordnung, so der gefragte Energieexperte.
Trotz einiger Irritationen habe sich dies auch im Rahmen der zunehmenden Folgen der Finanz- und Wirtschaftskrise nicht geändert. "Auch Europa versteht Klimaschutz als technologische und wirtschaftspolitische Chance. In der EU Low Carbon Economy Road Map und der EU Energy Road Map 2050 werden potentielle Wege aufgezeigt wie die Energieversorgung Europas bis 2050 weitgehend dekarbonisiert werden kann", sagt der Experte für Energiewirtschaft. Die Dekarbonisierung verfolgt die Umstellung der Energiewirtschaft in Richtung eines verminderten Kohlenstoff-Umsatzes.
Am Freitag, 14. Juni, dürfen sich Fans der Ringvorlesung auf Martin Skiba von der RWE Innogy GmbH, Hamburg, freuen. Er spricht über "Windenergie und ihr Beitrag zur Energiewende - Versuch einer Einordnung". Die Ringvorlesung findet jeweils freitags von 14.30 Uhr bis 16 Uhr im Hörsaal des Gebäudes K, Denickestraße 15, statt.
Interessierte Bürger, Studierende und Experten sind herzlich eingeladen.
Der Eintritt ist frei.
---
TUHH - Public Relations Office
Martina Brinkmann
E-Mail: pressestelle@tuhh.de