Weltweit anerkannter Experte für Lebensmittel hielt Antrittsvorlesung als Professor der TUHH
Vortrag von Prof. Dr.-Ing. habil. Stefan Palzer stieß auf großes Interesse
04.06.2013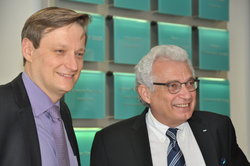 Zahlreiche Gäste, Studierende und Mitarbeiter und Mitarbeiterinnen der TUHH versammelten sich am Dienstagmittag zur Antrittsvorlesung von Prof. Dr.-Ing. habil. Stefan Palzer. Im Rahmen der Feierlichkeiten erfuhren die Zuhörer im Karl H. Ditze-Hörsaal Interessantes zum Thema: "Food Engineering delivering solutions for Nutrition, Health and Wellness" (Food Engineering liefert Lösungen für Nutrition, Gesundheit und Wellness). Im Anschluss daran verlieh ihm auf Antrag des Dekanats Verfahrenstechnik der Präsident der Technischen Universität Hamburg, Prof. Dr. Dr. h.c. Garabed Antranikian, Stefan Palzer die akademische Bezeichnung "Professor".
Der Verfahrenstechniker ist bereits seit dem Wintersemester 2010/2011 Lehrbeauftragter auf dem Gebiet der Lebensmitteltechnologie an der TUHH.
Professor Stefan Palzer gilt als weltweit anerkannter Experte für die Forschung und Entwicklung von Lebensmitteln. Er ist Assistant Vice President und Direktor der "Globalen Forschung und Entwicklung", der größten der sieben Hauptsparten, der mit fast 350.000 Mitarbeitern weltweit ebenfalls größten Lebensmittelfirma Nestlé mit Hauptsitz in Vevey in der Schweiz. Professor Palzer leitet dort die "Beverage Division", die sich mit allen flüssigen und pulverförmigen Kaffees, Tees, Kaffeeweissern und Säften beschäftigt.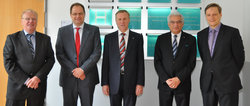 Palzer zeichnet umfängliche Forschungs- und Industrieerfahrung aus, die im Bereich der Industrie eher selten anzutreffen ist. So hielt er stets in seiner Tätigkeit für die Industrie den Kontakt zur universitären Forschung. Neben seiner Lehrtätigkeit unterstützt er Promotionsthemen, betreut Doktoranden und wurde bereits an den Universitäten Sheffield und Stuttgart-Hohenheim mit einer Honorarprofessur ausgezeichnet. Die Anzahl seiner Publikationen während seiner Industriekarriere beläuft sich auf über 75, davon 45 "peer-reviewed"; dazu kommen 22 Patente.
Prof. Dr.-Ing. Georg Fieg, Studiendekan Verfahrenstechnik der TUHH, betonte in seiner Laudatio: "…dass sich Herr Professor Palzer besondere Verdienste um die Entwicklung der Lebensmittelverfahrenstechnik, seiner wissenschaftlichen Grundlagen und seiner erfolgreichen Umsetzung in die industrielle Praxis erworben hat und in ganz besonderer Weise eng mit der Verfahrenstechnik der TUHH zusammenarbeitet. Herr Professor Palzer ist Mitglied des Industriebeirates des Dekanats Verfahrenstechnik und hat insbesondere bei der Unterstützung von Forschungsarbeiten an der TUHH ein herausragendes Engagement bewiesen."
Eine besonderes Highlight der Veranstaltung war der Vortrag von Prof Dr. Werner Bauer,
 Executive Vice President Innovation, Technology and R&D, Nestlé SA, denn er ist nicht nur Nestlé-Vorstand und somit Chef von Prof. Palzer, sondern arbeitete selbst von 1980-1985 als Professor an der TUHH. Professor Dr.-Ing. Werner Bauer referierte zum Thema 
"Innovations Management im globalen Kontext".
Das Schlusswort hielt Prof. Dr.-Ing. habil. Stefan Heinrich,
 Leiter des Instituts für Feststoffverfahrenstechnik und Partikeltechnologie der TUHH, der seit vielen Jahren intensiven Kontakt mit Prof. Palzer pflegt und an dessen Institut zahlreiche Doktoranden in Nestlé-Projekten arbeiten. Einer dieser ehemaligen Doktoranden, Dr.-Ing. Lennart Fries, arbeitet seit 2012 erfolgreich bei der Firma Nestlé in der Schweiz. Prof. Heinrich bedankte sich bei Prof. Palzer, dass er die Kooperation institutsübergreifend sucht und so auch mit einer Doktorandin aus dem Institut Thermische Verfahrenstechnik unter Leitung von Prof. Dr.-Ing. Irina Smirnova kooperiert.
---
TUHH - Public Relations Office
Martina Brinkmann
E-Mail: pressestelle@tuhh.de