SAMPE-Symposium: Gelungene Veranstaltung auf hohem Niveau
Wissenschaft und Industrie diskutierten neueste Entwicklungen im Bereich der Faserverbundstoffe
07.03.2013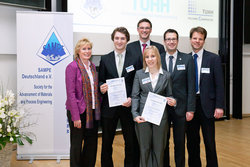 "Das 19. SAMPE-Symposium an der TUHH war ein voller Erfolg und bot eine hervorragende Möglichkeit, das Forschungsspektrum im Bereich der Faserverbundwerkstoffe an der TUHH aufzuzeigen", sagte Professor Dr.-Ing. Karl Schulte im Nachgang der Veranstaltung. 205 Teilnehmer aus Industrie und Wissenschaft hieß er auf dem Campus willkommen. Gastgeber der diesjährigen Tagung war das TUHH-Institut für Kunststoffe und Verbundstoffe (Institute of Polymers and Composites/IPC) unter Leitung von Professor Dr.-Ing. Karl Schulte. Die diesjährige Tagung folgte dem Motto "Faserverbundwerkstoffe in der Energiewende"; Teilnehmer und Teilnehmerinnen diskutierten neueste Entwicklungen im Bereich der Verbundwerkstoffe. Ein positives Fazit zog Professor Dr.-Ing. Alois K. Schlarb, Vorsitzender des Vorstands der Society for the Advancement of Material and Process Engineering (SAMPE) Deutschland e.V.: "Die Veranstaltung ist sehr gelungen. Die Vorträge zeigen im Sinne der SAMPE zum einen das breite Spektrum der Faserverbundanwendungen und -forschung und gehen gleichzeitig inhaltlich in die Tiefe."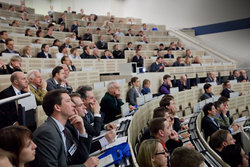 Industrievorträge aus den Gebieten Windkraft, Luftfahrt und Schiffbau bereicherten das Symposium. Dabei waren Vertreter von: Airbus Operation GmbH Stade, Lufthansa Technik AG, CTC GmbH, Evonik Hanse GmbH, Schütz GmbH & Co. KGAa, aerodyn Energiesysteme GmbH, Comprisetec GmbH und Thyssen Krupp Marine Systems.
Allein vier Institute der Technischen Universität Hamburg lieferten wissenschaftliches Input. Vorträger hielten Mitarbeiter der Institute für Kunststoffe und Verbundwerkstoffe, Produktionsmanagement und -technik, Konstruktion und Festigkeit von Schiffen, Modellierung und Berechnung. Angereist waren zudem Vertreter des Instituts für Kunststofftechnik der Universität Stuttgart, des Instituts of Materials Research/Materials Mechanic vom Helmholtz Zentrum Geesthacht GmbH und des Fraunhofer Institut für Windenergie und Energiesystemtechnik.
Die SAMPE Innovationspreise für hervorragende wissenschaftliche Arbeiten verlieh Prof. Frank Henning (Karlsruher Institut für Technologie, und SAMPE Vorstand) an Janna Sofie Riechwald von der TU Darmstadt und Volker Heinzle vom Karlsruher Institut für Technologie. Zu einem unterhaltsamen Ausklang des 13. Symposiums hatten die Harburger Gastgeber ihre Gäste auf den Dreimaster Rickmer Rickmers eingeladen. Das 20. SAMPE Symposium in Deutschland wird 2014 in Stuttgart stattfinden.
Info:
Die Forschung des Instituts für Kunststoffe und Verbundwerkstoffe befasst sich mit Kompositen auf Kunststoffbasis wie z.B. Glas- und Kohlenstofffaserverstärkten Kunststoffen (GFK und CFK), GLARE und Nanokompositen auf Basis von nanoskaligen keramischen Partikeln oder Kohlenstoffpartikeln, wie z.B. dem Graphen. Anfang 2013 erhielt eine Forschergruppe um Prof. Karl Schulte (Leiter des TU-Instituts für Kunststoff und Verbundwerkstoffe) 600 000 Euro für die Weiterentwicklung ihrer gemeinsam mit Kieler Wissenschaftlern entwickelten Graphit-Strukturen. Es ist bis dato der leichteste Werkstoff der Welt. Das Institut ist im Bereich der Verbundwerkstoffe seit seiner Gründung 1984 tätig und erste Projekte im Bereich Nanokomposite laufen seit 1993.
See also: http://intranet.tuhh.de/akt ... elung_einzeln.php3?id=8666)
---
TUHH - Public Relations Office
Martina Brinkmann
E-Mail: pressestelle@tuhh.de