Posterpreise zum ersten Mal verliehen: Doktoranden Juan Liang und Manuel Heine stechen mit besonders gelungenen Plakaten heraus
06.03.2013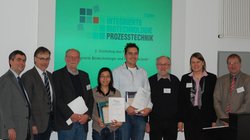 Ein wissenschaftliches Poster hat klare Ziele. Es soll auffallen und beim Betrachter Interesse wecken. Dies gelingt vor allem durch das Layout, auf das durch die Wahl von Überschriften, die Darstellung des Textes und insbesondere Abbildungen Einfluss genommen werden kann. Eigenschaften wie Verständlichkeit und Originalität sind dabei von besonders hoher Relevanz. Forschungsergebnisse aus jahrelanger Arbeit auf ein A0-Plakat zu reduzieren, das verlangt nicht nur die Fähigkeit, Dinge komprimiert darstellen zu können, sondern auch ein Auge für das Wesentliche. Im Rahmen des zweiten Workshops zum Forschungsschwerpunkt "Integrierte Biotechnologie und Prozesstechnik", der am vergangenen Freitag im Haus der TuTech Innovation GmbH veranstaltet wurde, mussten eben diese Fähigkeiten unter Beweis gestellt werden. Dabei spielten nicht die Resultate, die die Doktoranden und Post-Doktoranden während ihrer Forschungsarbeiten erzielt haben, die entscheidende Rolle, sondern die gelungene Darstellung der eigenen Studien. "Die Inhalte können noch so neu und relevant sein, werden sie doch nur dann vermittelt, wenn das Poster die Aufmerksamkeit der Betrachter auf sich zieht und wenn es den Betrachtern gelingt, die Inhalte schnell zu erfassen", erklärt Dr. Monika Johannsen, Organisatorin des Workshops.
Besonders gut gelungen ist dies den beiden Workshop-Teilnehmern Juan Liang, Doktorandin am Institut für Prozess- und Anlagentechnik, und Manuel Heine, Doktorand am Institut für Feststoffverfahrenstechnik und Partikeltechnologie. Durch "klare Strukturierung und der interessanten und verständlichen Darstellung des Hintergrundes, der Bearbeitung, der Ergebnisse und deren Anwendung", sei es den beiden Wissenschaftlern besonders gut gelungen, ihre Poster-Inhalte dem Betrachter zu vermitteln, so Professor Rudolf Eggers, einer der drei Juroren, die im Rahmen des Workshops den Preis für die besten zwei Poster unter insgesamt 63 verliehen. Keine einfache Angelegenheit, denn laut Professor Wolfgang Calmano - ebenfalls Jurymitglied - wurden die meisten Poster sehr gut umgesetzt. Eines allerdings stach besonders heraus und wurde deshalb von allen drei Juroren einstimmig mit dem Ersten Preis ausgezeichnet. Dieser ging an Manuel Heine, der die bisherigen Ergebnisse seiner Doktorarbeit zum Thema "Struktur-Eigenschaftsbeziehungen von Lebensmittelpulvern bei der Wirbelschichtagglomeration" am besten darstellte. Seit 2010 beschäftigt sich der Diplom-Verfahrenstechniker im Rahmen seiner Dissertation bei Professor Stefan Heinrich mit diesem komplexen Verfahren, das eingesetzt wird, um maßgeschneiderte Lebensmittelpulver zu entwickeln. Um dies zu erreichen, werden "die fluidisierten Primärpartikel durch eine Binderflüssigkeit lokal benetzt, so dass die kollidierenden Partikel miteinander verkleben und zu Agglomeraten heranwachsen", erklärt Manuel Heine. Vereinfacht ausgedrückt: Die einzelnen Partikel werden durch Hinzufügen einer Flüssigkeit miteinander verbunden.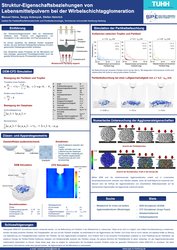 Auch das Poster der Doktorandin Juan Liang, die in China an der Tianjin Universität ihren Masterabschluss in Bioverfahrenstechnik machte, hinterließ bei der Jury einen bleibenden Eindruck. "Bei der Preisträgerin haben wir die vorbildliche interdisziplinäre Zusammenarbeit innerhalb des Forschungsschwerpunktes zwischen dem Institut von Professor Frerich Keil und Professor Georg Fieg gewürdigt", erklärt Professor Rudolf Müller, ebenfalls Juror. Seit 2010 beschäftigt sich Juan Liang mit dem Thema "Molecular dynamics simulations of protein adsorption onto ion-exchange chromatographic media" und wird in Kürze ihre Doktorarbeit abschließen. "Über die Auszeichnung habe ich mich sehr gefreut", sagt sie. "Es war eine Überraschung für mich und ist eine Ermutigung für meine Forschungsarbeit". Ausgezeichnet wurden die beiden Posterpreisträger mit dem "Handbook of Chemistry and Physics", einem Standardwerk der Chemie und Physik.
---
TUHH - Public Relations Office
Sarah El Jobeili
E-Mail: pressestelle@tuhh.de