Hamburger Expertin für Computer-Simulationen forscht nach neuen Werkstoffen für Autos und Flugzeuge
19.02.2013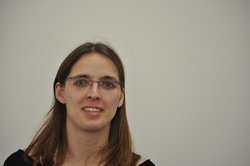 Was passiert auf der Mikroebene, wenn Metalle großen plastischen Deformationen unterzogen werden? Die Antwort auf diese Frage ist von großer Bedeutung für die Entwicklung innovativer Werkstoffe im Automobil-und Flugzeugbau und ohne Computer-Simulationen nicht denkbar. Eine Expertin auf diesem Gebiet ist Prof. Dr.-Ing. Swantje Bargmann. Die junge Wissenschaftlerin leitet an der TU Hamburg das neugegründete Institut für Kontinuums-und Werkstoffmechanik und in Personalunion am Helmholtz-Zentrum Geesthacht die Abteilung Simulation von Werkstoff-und Strukturverhalten.
Computer-Simulationen gewinnen gerade auch in den Ingenieurwissenschaften rasant an Bedeutung, weil sie Zeit und Kosten sparen und immense Aussagekraft haben. Stets geht es darum, die Natur und ihre Zusammenhänge besser zu verstehen, vor allem aber Voraussagen treffen zu können. Metallische Werkstoffe werden in der industriellen Produktion einem Umformprozess unterzogen. Diese großen plastischen Deformationen sind auf der Mikroebene stark abhängig von der kristallinen Struktur. Bargmanns langfristiges Ziel ist die Simulation des Verhaltens und Versagens metallischer Werkstoffe in diesen Umformprozessen. Beim Modellieren wird der physikalische Vorgang in Form eines mathematischen Modells dargestellt. Hintergrund: In der Industrie werden für die erhöhten Anforderungen immer anspruchsvollere Werkstoffe eingesetzt und benötigt.
Ein weiteres Forschungsgebiet der studierten Mathematikerin ist die Thermoelastizität. Mit der computerbasierten Modellierung thermisch induzierter Spannungen will Bargmann unter anderem Erkenntnisse zu Temperaturveränderungen durch Deformationen gewinnen.
Vor ihrer Rufannahme an die TU Hamburg forschte Swantje Bargmann als Juniorprofessorin für Computational Material Modeling an der TU Dortmund. Dort schrieb sie ihre Habilitation, nachdem sie an der TU Kaiserslautern nach dem Mathematik-Studium zwischen 2004 und 2008 promovierte. Zwischen 2005 und 2010 war Swantje Bargmann mehrfach zu Forschungsaufenthalten im Ausland: an der Kaist Universität in Südkorea, der Hokkaido Universität in Japan, der Chalmers University of Technology in Schweden und der University of Cape Town in Südafrika. Swantje Bargmann ist Trägerin verschiedener hochrangiger Preise, unter anderem erhielt sie 2011 den Heinz-Maier-Leibnitz-Preis für außergewöhnliche wissenschaftliche Leistungen der Deutschen Forschungsgemeinschaft.
Für Rückfragen:
TU Hamburg
Institut für Kontinuums-und Werkstoffmechanik
Prof. Dr.-Ing. Swantje Bargmann
Tel.: 040/ 42878-2256
E-Mail: swantje.Bargmann@tuhh.de
---
TUHH - Public Relations Office
Jutta Katharina Werner
E-Mail: pressestelle@tuhh.de