Erste TEDx-Konferenz an der TUHH ein voller Erfolg
14.11.2012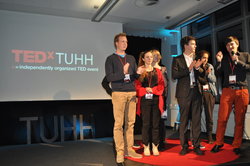 Unter dem Motto "Passion. Unboxing Ideas!" fand am vergangenen Wochenende die erste von TED lizensierte, unabhängig organisierte TEDx-Konferenz an der TUHH statt. Im Rahmen der ganztägigen Veranstaltung hatten zehn Rednerinnen und Redner die Möglichkeit von ihren Ideen und dem Weg bis zur Umsetzung zu erzählen und die einhundert anwesenden Gäste zu motivieren, an ihre Ideen zu glauben und sie zu verfolgen. Das Ziel: In 18 Minuten die Welt zu verändern. Oder zumindest Impulse dazu zu geben. Das Interesse an der Veranstaltung in der TUHH war enorm und lockte sogar Gäste aus anderen Regionen Deutschlands nur für diesen Anlass an die Technische Universität Hamburg. Auch die Organisatoren der Konferenz waren mit dem Ablauf der Veranstaltung sehr zufrieden: "Es freut mich natürlich sehr, dass so viele Ingenieurstudierende bereit waren über den Tellerrand hinaus zu blicken", sagt Niels Hackius, Mitglied des TEDx-Teams. "Das Feedback war wirklich toll und ich denke wir haben es geschafft etwas Mut zu machen und vielleicht den einen oder anderen Denkanstoß zu geben."
TED ist eine Non-Profit Organisation aus den USA, welche sich dem Teilen von Ideen verschrieben hat. Was 1984 selbst als Konferenz für die drei Welten: Technologie, Entertainment und Design begann, ist heute eine große Austauschplattform. So werden neben der Internetseite TED.com auch zahlreiche weitere Programme aufgelegt. Unter anderem das TEDx-Programm, welches es Gruppen oder Einzelpersonen ermöglicht lokale, unabhängige Events im TED-Stil zu organisieren.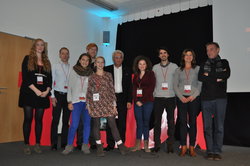 Die Idee, TEDx an die TUHH zu bringen, kam dem Initiator der Veranstaltung, Niels Hackius, während eines Auslandssemesters an der Nanyang Technological University, einer Partnerhochschule der TUHH in Singapur: "Es hat mich einfach beeindruckt, was da passiert ist. Die TEDx-Talks waren dort sehr gut", erklärt er. Was ihn letztlich dazu bewegte, ein TEDx-Event an der TUHH zu organisieren, war vor allem der Gedanke, seine Kommilitonen von der Idee zu begeistern, nicht den klassischen Karriereweg nach dem Studienabschluss zu gehen, sondern Eigeninitiative zu ergreifen und selbst die Zukunft gestaltend tätig zu werden.
Die Spannbreite der Beiträge und Reden war groß. Kaija Landsberg stellte zum Beispiel ihr Projekt "Teach First Deutschland" vor. Die Geschäftsführerin der Organisation gründete das Projekt 2007, nachdem sie sich in nordamerikanischen Schulen hatte inspirieren lassen. Bei "Teach First Deutschland" geht es darum, Absolventinnen und Absolventen aller Studienrichtungen an Schulen in sozialen Brennpunkten zu vermitteln, um sozial benachteiligte Schülerinnen und Schüler zu unterstützen und zu fördern. Bis heute konnte die Organisation einhundert Alumni in den Bildungsbereich integrieren und erhält dafür im Dezember sogar eine Auszeichnung. Auch Manuela Maurer hatte eine Idee, die sie mit Ehrgeiz und Motivation umsetzte: Während eines Besuchs in der Haftanstalt Moabit verband sie die Vorführung des Films "Underdogs" mit der Vision für "Hundebande". Heute organisiert "die Hundebande eine neunmonatige Grundausbildung von Blindenführhunden durch weibliche Strafgefangene", erzählt sie. "Durch diese Arbeit werden zwei Lebenswelten auf eine neue Art miteinander verbunden".
Projekte wie "Cradle to Cradle", einem gemeinnützigen Verein, der es sich zur Aufgabe gemacht hat neue Denkanstöße im Bereich Nachhaltigkeit zu geben, und "Plant for the Planet" machten auf das Thema Umwelt und Nachhaltigkeit aufmerksam.
Abschlussredner der Konferenz war der Präsident der TUHH, Professor Garabed Antranikian. In seinem Talk mit dem Titel "How needle and thread influenced my life" erzählte er den einhundert Gästen von seinem Lebensweg und wie er es schaffte als Sohn einer Flüchtlingsfamilie während des Bürgerkrieges im Libanon nach Deutschland zu kommen und schließlich ein international anerkannter Wissenschaftler und Präsident der TUHH zu werden.
TEDx-Interessierte, die an diesem Tag nicht live dabei sein konnten, hatten die Möglichkeit die gesamte Konferenz via Livestream im Internet zu verfolgen. Die einzelnen Talks werden ab Ende Dezember auf dem TEDx YouTube-Channel für jeden frei verfügbar sein.
See also: http://tedxtuhh.de
---
TUHH - Public Relations Office
Sarah El Jobeili
E-Mail: pressestelle@tuhh.de