Wirbelschichttechnik - Expertentagung in Hamburg
08.11.2012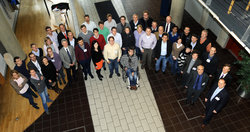 In diesen Tagen findet zum bereits vierten Mal der jährliche GVT-Hochschulkursus Wirbelschichttechnik in Hamburg statt - zum ersten Mal in englischer Sprache. Das Thema lautet: "Fluidization Technology - Fundamentals and Applications in Drying, Granulation and Agglomeration". Organisiert und geleitet wird der Kursus von Professor Stefan Heinrich. Dem Leiter des Instituts für Feststoffverfahrenstechnik und Partikeltechnologie ist es auch 2012 gelungen, namhafte Kollegen aus Universitäten und der Industrie als Redner zu gewinnen.
An dem Kursus beteiligen sich 40 Teilnehmer aus der nationalen und internationalen Industrie sowie aus Hochschulen. Im Mittelpunkt stehen die Grundlagen und Erfahrungen unterschiedlicher Wirbelschichtprozesse zur Wärmeübertragung und Trocknung - auch unter Vakuumbedingungen - Granulation und Agglomeration von Partikeln mit Hilfe von praktischen Hinweisen und ausführlichen Berechnungsbeispielen. Schwerpunkte bilden Ausführungen zur Strömungsmechanik und Vermischung, zum Wärme- und Stoffübergang sowie zu den ablaufenden komplexen Partikelbildungsmechanismen. Weiterhin werden aktuelle Anwendungen, wie moderne Fliessschemasimulationssysteme zur Berechnung komplexer Feststoffkreisläufe, und moderne Messmethoden vorgestellt. Praktische Versuchsdemonstrationen verfestigen dabei das vorher erlernte Wissen.
Die Wirbelschichttechnik wird auf Grund ihrer intensiven Wärme-, Stoff- und Impulstransportverhältnisse sowie ihrer verfahrenstechnisch bedingten Vorteile in zunehmendem Maße als Verfahren mit der Möglichkeit der Kopplung von Trocknung, Formgebung bzw. Feststofferzeugung, Homogenisierung sowie Klassierung genutzt. Neben klassischen Einsatzgebieten wie der Energietechnik spielt die Partikelformulierung mittels der Wirbelschichttechnik eine wichtige Rolle. Dabei werden über eine Sprühgranulation aus flüssigen Rohstoffen neuartige maßgeschneiderte Partikel mit definierten Produkteigenschaften, wie Staubfreiheit, Fließfähigkeit und Partikelgrößenverteilung, hergestellt, die zum Beispiel. als verkapselte oder schalenartige Katalysatoren, Wirkstoffgranulate, Lithium-Ionen-Batteriematerialien und Düngemittel in der chemischen, pharmazeutischen, biotechnologischen, keramischen, Kosmetik- oder Lebensmittelindustrie breite Anwendung finden.
Die Veranstaltung findet an der TuTech GmbH sowie am Institut für Feststoffverfahrenstechnik und Partikeltechnologie statt.
---
TUHH - Public Relations Office
Jutta Katharina Werner
E-Mail: pressestelle@tuhh.de