NIT/TUHH Student Bojan Pelivanoski vom mazedonischen Präsidenten ausgezeichnet
10.09.2012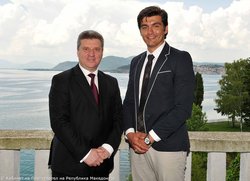 Als einer der besten ingenieurwissenschaftlichen Absolventen seines Landes wurde NIT/TUHH Student Bojan Pelivanoski mit dem "Goldenen Ring der Ingenieurwissenschaften" vom mazedonischen Präsidenten ausgezeichnet.
Die Engineering Institution of Macedonia und die Chamber of Chartered Architects and Engineers hielten zum neunten Mal ihre jährliche Zeremonie ab, um den Goldenen Ring der Ingenieurwissenschaften an die besten Absolventen der Ingenieurwissenschaften von mazedonischen Universitäten unter Anwesenheit des mazedonischen Präsidenten zu verleihen.
Diese Ausschreibung soll junge Menschen dazu motivieren und ermutigen, ein ingenieurwissenschaftliches Studium aufzunehmen vor allem vor dem Hintergrund, dass Ingenieure mit ihrer Kreativität und Innovationsfreude eine treibende Kraft in der Entwicklung einer gesunden und wachsenden Wirtschaft spielen sollten. Zur Unterstreichung der Symbolik wurde die Zeremonie in der St. Clement Kirche abgehalten, in welcher die älteste slawische Universität bereits im 9. Jahrhundert gegründet wurde.
Die Gastgeber des Abends waren Prof. Dr. Gjorge Ivanov, Präsident der Republik Mazedonien, Prof. Dr. Aleksandar Dimitrov, Präsident der Engineering Institution, und Prof. Dr. Mile Stankovski, Präsident der Chamber of Chartered Architects and Engineers.
"Mazedonische Talente sind gefragt und weltweit erfolgreich. Durch diese Talente sind wir ein Teil des weltweiten Wissens" sagte Professor Ivanov. "Ingenieure sind die treibende Kraft jeder Gesellschaft im industriellen, wirtschaftlichen und sozialen Sinne" sagte Professor Dimitrov.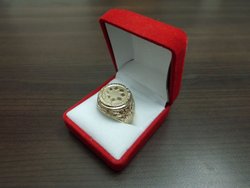 Als Repräsentant der diesjährigen Preisträger wurde Bojan Pelivanoski gebeten, die Dankesrede zu halten. "Als wir uns dazu entschieden Ingenieure zu werden, dachten wir nicht an diese Auszeichnung. Wir wurden von dem Ziel angetrieben, zu lernen und zu erfahren, wie wir die Zukunft verändern können. Der Goldene Ring ist ein Zeichen dafür, dass wir die ersten Schritte in Richtung dieses Zieles unternommen haben", sagte er.
Im Anschluss an die Zeremonie wurden die 12 Preisträger in die Residenz des Präsidenten eingeladen, wo die Zukunft für Ingenieure und ihre Rolle in der Gesellschaft diskutiert wurde. Die Gäste waren sich darin einig, dass Ingenieure die Aufgabe haben, Innovationen voranzutreiben. Innovationen sind ein ausschlaggebender Faktor bei der Entwicklung einer nachhaltig agierenden und wachsenden Wirtschaft.
Außerdem wurde diskutiert, dass Ingenieure in der Lage sein sollten, neben der Entwicklung von Innovationen auch deren wirtschaftliche Auswirkungen sowie deren Einfluss auf den Markt zu beurteilen. Aus diesem Grunde sollten Ingenieure Kenntnisse in Management, Leadership und Entrepreneurship erlangen, sodass sie Innovationen nutzbringend auf den Markt bringen können und gleichzeitig als verantwortungsvolle Wegweiser für die Zukunft agieren können.
Diesen Weg geht auch Bojan Pelivanoski, indem er sich für den doppelten Masterstudiengang am NIT und der TUHH entschieden hat. Er absolviert gleichzeitig einen Master in Ingenieurwissenschaften und einen Master in Technology Management - eine nach wie vor einzigartige Kombination, die Absolventen in die Lage versetzt, nicht nur ingenieurwissenschaftliche Fragestellungen zu lösen, sondern auch den Herausforderungen verantwortungsvollen Managements zu begegnen, die weltweit von wachsender Bedeutung für die Unternehmen sind.
Für Rückfragen:
Northern Institute of Technology Management
Daphna Horwitz / Dörthe Grötsch
Kasernenstrasse 12
21073 Hamburg
Tel.: 040 - 42878-4217
daphna.horwitz@nithh.de
doerthe.groetsch@nithh.de
www.nithh.de
---
TUHH - Public Relations Office
Jutta Katharina Werner
E-Mail: pressestelle@tuhh.de