US-Mathe-Koryphäe zu Gast an der TU Hamburg
16.07.2012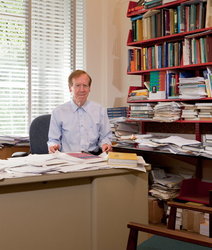 Seine Lehrbücher und Videos sind Renner, seine Forschung bahnbrechend: Gilbert Strang ist einer der bekanntesten Mathematiker weltweit. Am 17. und 18. Juli wird der US-Wissenschaftler des renommierten Massachusetts Institute of Technology (MIT) die Technische Universität Hamburg-Harburg (TUHH) besuchen. Professor Strang gehört zum Kreis von zehn Experten eines "Kick-Off-Meetings", zu dem das neue TUHH-Institut für Mathematik (ehemals: Numerische Simulation) einlädt.
Die Vortragenden kommen aus den USA und Großbritannien, Belgien und Deutschland und sind Forschungspartner der an der TUHH tätigen Mathematiker. Zu den Teilnehmern von Weltrang gehört außer Strang auch der Experte für numerische lineare Algebra, Professor Marc Van Barel von der Katholieke Universiteit Leuven. Des Weiteren nehmen Professor Marco Marletta von der Cardiff University in Wales teil sowie Dr. Lyonell Boulton von der Heriot-Watt University in Schottland und Dr. Steve Langdon von der englischen University of Reading. Mit Dr. Timo Betcke kehrt ein Alumni der TUHH an seine Alma Mater zurück. Der Informatik-Ingenieurwissenschaftler hatte 2004 nach nur acht Semestern sein Diplom mit der Gesamtnote 1,3 abgelegt. Heute ist der 34-Jährige auf seinem Spezialgebiet, der numerischen Analysis, als Nachwuchswissenschaftler am University College London tätig. Die TU Chemnitz ist mit den promovierten Mathematikern Markus Seidel und Christian Seifert vertreten und die TUHH als Gastgeber mit Professor Marko Lindner und Dr. Jens Zemke.
Lindner folgte 2012 einem Ruf an die TUHH an den Lehrstuhl für "Angewandte Analysis" und ist derzeit auch Sprecher des im Frühsommer gegründeten Instituts für Mathematik. Dort angesiedelt sind ferner die Lehrstühle für "Diskrete Mathematik" sowie für "Numerische Mathematik", dessen kommissarische Leitung Professor Wolfgang Mackens obliegt. Mit dem öffentlichen Kick-Off-Meeting über angewandte Mathematik stellt das neue Institut sich und seine Forschungsschwerpunkte vor.
Professor Gilbert Strang aus den USA wird sich in seinem Vortrag dem Wechselspiel zwischen Differenzen-und Differentialgleichungen am Beispiel von Wellengleichung und Wärmeleitgleichungen widmen.Strang war maßgeblich an der Entwicklung der Finite-Elemente-Methode beteiligt, die heute weltweit eines der wichtigsten Werkzeuge zur Lösung ingenieurwissenschaftlicher Fragestellungen darstellt. Der 77-jährige Wissenschaftler ist Träger zahlreicher renommierter Preise und war unter anderem Präsident der Society of Industrial and Applied Mathematics sowie Mitglied der Jury für den Abelpreis, der als Ersatz für den Nobelpreis verliehen wird, den es im Fach Mathematik nicht gibt.
Für Rückfragen
TU Hamburg-Harburg
Institut für Mathematik
Prof. Dr. Marko Lindner
See also: http://www.tu-harburg.de/ma ... altungen/kickoff/index.html
---
TUHH - Public Relations Office
Jutta Katharina Werner
E-Mail: pressestelle@tuhh.de