Klimawandel: Umweltsenatorin eröffnet Internationale Konferenz für Hydroinformatik an der TU Hamburg
13.07.2012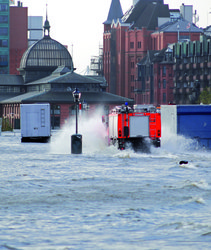 Hamburgs Umweltsenatorin Jutta Blankau wird morgen um 9.20 Uhr die zehnte internationale Konferenz für Hydroinformatik im Audimax II eröffnen. Gastgeber der HIC-2012 – 10th International Conference on Hydroinformatics, die vom 14. bis 18. Juli auf dem Campus stattfindet, ist das Institut für Wasserbau. Der Präsident der TU Hamburg, Professor Garabed Antranikian, wird aus diesem Anlass mehr als 350 Teilnehmerinnen und Teilnehmer aus 43 Ländern im Süden der Hansestadt willkommen heißen. Im Zentrum des internationalen Kongresses stehen die Auswirkungen des Klimawandels auf aquatische Lebensräume einerseits und andererseits Rechenmethoden, die immer genauere Vorhersagen erlauben, Szenarien abbilden und Warnsysteme ermöglichen.
Starkregen, Überflutungen, Überschwemmungen, Hochwasser, Deichbrüche – es geht um die Entwicklung von Lösungen der Folgen klimatischer Veränderungen in den aquatischen Lebensräumen. Flüsse, Seen und die Meere, Grundwasser und Kanäle – mit Hilfe der Informatik können Klimaforscher und Experten der Wasserforschung immer exakter vorhersagen, welche Auswirkungen des Klimawandels zu erwarten sind und dadurch immer bessere Strategien für Gegenmaßnahmen entwickeln. Über diese breit angelegten Themengebiete werden nahezu 300 internationale Referenten in insgesamt 70 Sitzungen an fünf Tagen jeweils etwa 20 Minuten vortragen und diskutieren. Adressaten der HIC 2012 sind Ingenieure, Naturwissenschaftler und Informatiker aus Wissenschaft und Praxis.
Zum jeweiligen Auftakt der fünf Tagungstage sprechen ausgewählte Referenten. So wird am Sonnabend, 14. Juli, nach der offiziellen Eröffnung Professor Daniela Jacob vom Max-Planck-Institut für Meteorologie in Hamburg detailliert regionale Szenarien des Klimawandels vorstellen. Mit einem Vortrag über die weltweite Sicherung der Wasserressourcen von Professor Roger Falconer von der englischen Cardiff University beginnt der zweite Kongresstag. Er ist zugleich Präsident der International Association of Hydraulic Research. Professor Dimitri Solomatine vom Unesco-Institut in Delft wird am Montag, 16. Juli, in seinem Vortrag aktuelle Simulationsmodelle vorstellen und auch die Unschärfen dieser Methoden aufzeigen. Auch der Dienstag steht im Zeichen der Hydroinformatik mit einem Vortrag von Dr. Rainer Lehfeldt von der Bundesanstalt für Wasserbau mit Sitz in Hamburg über "Metadaten Management und Web-basierte Dienstleistungen im Küstenwasserbau." Zum Abschluss des Kongresses spricht Professor Mojib Latif vom Geomar in Kiel. Der bekannte Klimaforscher stellt seinen Schlüsselvortrag über die globale Erwärmung unter die Frage "Fakt oder Fiktion?"
Die Konferenz wird unterstützt von der Deutschen Forschungsgemeinschaft, der International Association of Hydro-Environment and Research, der International Association of Hydrological Sciences und der International Water Association. Die nächste International Conference on Hydroinformatics findet 2014 in den USA statt. 2010 trafen sich die Hydroinformatik-Experten im chinesischen Tianjin zu ihrem Weltkongress.
Die Hydroinformatik ist eine noch junge Wissenschaft, die die Wasserforschung mit der Informatik verknüpft.
Für Rückfragen:
TU Hamburg-Harburg
Institut für Wasserbau
Prof. Dr. Peter Fröhle
Tel.: 42878-3463
E-Mail: froehle@tuhh.de
See also: www. hic2012.org
---
TUHH - Public Relations Office
Jutta Katharina Werner
E-Mail: pressestelle@tuhh.de