Export von Wissen: TU Hamburg entwickelt Teile eines Studiengangs für Jordanien und Syrien
09.07.2012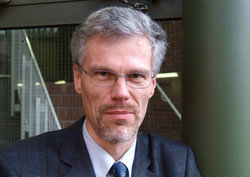 Die TUHH ist Partner bei der Gestaltung eines Studiengangs für Universitäten in Jordanien und Syrien. Aus diesem Anlass hat TUHH-Präsident Professor Garabed Antranikian heute seinen Amtskollegen Professor Ekhlaif Tarawneh von der University of Jordan empfangen. Dem Treffen beider Präsidenten folgen Gespräche aller an der Konzeption des Studiengangs "Environmental Engineering and Climate Change" beteiligten Partner an der TUHH, die morgen fortgesetzt und bis Mittwoch andauern. "Die Beteiligung der TU an diesem Studiengang ist sichtbares Zeichen unserer internationalen Vernetzung und vor allem Beweis für unsere große Expertise auf dem Gebiet der Green Technologies", sagt der Präsident der TU Hamburg, Garabed Antranikian.
Das am Institut für Umwelttechnik und Energiewirtschaft unter Leitung von Professor Martin Kaltschmitt angesiedelte Vorhaben soll die von der EU forcierte Modernisierung der universitären Ausbildung – im Rahmen des Förderprogramms TEMPUS – in der Mittelmeerregion unterstützen. Für die Vorlesungen im Bereich "Erneuerbare Energien" des neuen Studiengangs ist die TUHH verantwortlich. Außerdem wird die Hamburger TU Methoden zur Evaluation dieses Master-Studiengangs entwickeln. "Damit können wir die an der TU in den letzten Jahren gewonnenen wertvollen Erfahrungen in die Konzeption des neuen Studiengangs einbringen und so sicherstellen , dass einerseits die Ausbildung auf einem hohen Niveau realisiert wird und andererseits die Studienabgängerüber die von der Industrie nachgefragten Fähigkeiten verfügen", sagt Kaltschmitt. Für ihren Lehrexport erhält die TUHH 90.000 Euro von der EU, weitere 1.000.000 Euro stehen den anderen Projekt-Partnern aus der EU sowie dem Nahen Osten zur Verfügung. Daran beteiligt sind beispielsweise auch die Hochschule Ostwestfalen-Lippe, die Privathochschule Instituto Superior de Pacos de Brandao und das Ingenieurbüro Paulo & Beatriz Consultores Associades.
Der von diesen Partnern entwickelte Master-Studiengang "Enviromental Engineering and Climate Change" soll ab dem Wintersemester 2013/14 an sechs Universitäten in Jordanien und Syrien angeboten werden. In Jordanien sind dies die University of Jordan, die German Jordan University, die Hashemite University sowie in Syrien die Al-Baath-University, die Tishreen University und die Aleppo-University.
Für Rückfragen:
TU Hamburg-Harburg
Institut für Umwelttechnik und Energiewirtschaft
Prof. Dr.-Ing. Martin Kaltschmitt / Christina Wulf
Tel.: 42878-3008
E-Mail: Kaltschmitt@tuhh.de
---
TUHH - Public Relations Office
Jutta Katharina Werner
E-Mail: pressestelle@tuhh.de