Neues aus Kalifornien: Orientierung an den Besten
TUHH meets Caltech in Los Angeles, die beste Universität der Welt
29.06.2012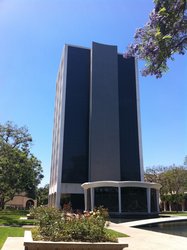 Die TUHH-Delegation ist zu Gast beim California Institute of Technology, der Caltech. Mit etwa 290 Professoren und 2000 Studenten ist die wissenschaftlich hochproduktive Universität extrem klein. Trotzdem gehört sie laut diversen Rankings zu den zehn besten Universitäten der Welt. Im THE (The Times Higher Education Supplement), bekannt für sein jährlich durchgeführtes Hochschulranking, wurde die Caltech für 2011/2012 allgemein und für die Ingenieurwissenschaften sowie Physik als weltweit beste Universität bewertet. In der Geschichte der Universität haben Angehörige und Ehemalige insgesamt 31 Nobelpreise gewonnen, davon 13 in Physik, 9 in Physiologie oder Medizin, 6 in Chemie, sowie 2 in Ökonomie und einen Friedensnobelpreis. Caltech ist wie die TUHH auf technische Wissenschaften spezialisiert.

Ähnlich der TUHH verfügt Caltech nicht über Fakultäten sondern auf Grund der Größe über Divisions, vergleichbar den TU-Instituten. "Our students are our best products", sagt Morteza Gharib, Vizepräsident und Experte für interstationäre Aero- und Hydrodynamik. Nur wenige Caltech-Absolventen wechseln in die Industrie, die meisten werden Professoren und forschen. So ist die beste Technische Universität berühmt für ihre starke Grundlagenorientierung in der Forschung.
Eine gute Idee wollen die Professoren der Technischen Universität Hamburg zu Hause umsetzen: Neben den Vorlesungsaufzeichnungen bieten die Professoren der Caltech online Sprechstunden an, um den Lehrstoff nachzubereiten und Fragen zu beantworten.
Dazu Präsident Garabed Antranikian: "Die intensive Interaktion zwischen den Professoren und den Studierenden an den amerikanischen Spitzenuniversitäten ist ein Schlüsselfaktor für den großen Erfolg".

Von Frederic Farina, dem Leiter des Technologietransfers, erfahren die deutschen Professoren, dass die Caltech bereits Mitte der 90er Jahre mit der Sicherung und Verwertung eigener Forschungsergebnisse begonnen hat. Mittlerweile werden jährlich 130 Patente angemeldet und rund 40 Lizenzen vergeben. Auf diese Weise können rund 20 Mio. Dollar pro Jahr an Einnahmen erzielt werden. Zusätzlich werden im Schnitt 10 Firmen pro Jahr gegründet.
"Die Sicherung und Verwertung der Forschungsergebnisse ist auch für die TUHH ein wichtiger Faktor, um weiter an Reputation zu gewinnen und um zusätzliche Forschungsmittel zu generieren. Auch für die Erfinder zahlen sich Patente aus, denn sie werden an den Erlösen beteiligt", so Dr. Ralf Grote

Beeindruckt zeigen sich die Hamburger Professoren von Francis Arnold, Professorin für Biochemie sowie chemische und biologische Verfahrenstechnik. Sie hat eine Schlüsseltechnologie, das so genannten DNA-Shuffling, entwickelt, mit der Enzyme durch künstliche Evolution verbessert werden können.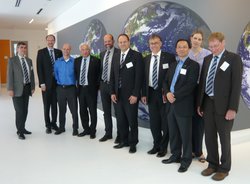 Zum Abschluss des Besuchs der Caltech stehen Begegnungen mit Prof. Tapio Schneider (Professor für Geotechnik) und Neil Fromer an. Tapio Schneider hat in Freiburg studiert und kennt die deutschen und amerikanischen Hochsysteme sehr gut. Als Forscher schätzt er ungemein die Freiheiten in den USA. Auch sei die Bürokratie weniger ausgeprägt. Deutschland müsse in dieser Hinsicht aufpassen, um die Abwanderung intelligenter Köpfe zu verhindern. Mit Neil Fromer (Direktor des Resnick Instituts für nachhaltige Energieforschung) wurde ein eWorkshop vereinbart. Postdocs der TUHH und der Caltech werden über eine Videokonferenz ihre Ideen und Konzepte für grüne Technologie austauschen. Dazu Prof. Dr.-Ing. Jürgen Grabe, TU-Vizepräsident Forschung und Leiter des TU-Instituts Biotechnik und Baubetrieb: "Wird dieses Format gut angenommen, werden wir als nächsten Schritt einen gemeinsamen Workshop planen, um die weitergehenden Kooperationsmöglichkeiten zu diskutieren.
Text: Martina Brinkmann
---
TUHH - Public Relations Office
Rüdiger Bendlin
E-Mail: bendlin@tuhh.de
Phone: +49 40 428 78 3330