Grünen Treibstoff preiswerter machen: Dr.-rer. nat. Dina Jabbour forscht an der Michigan State Universität
19.06.2012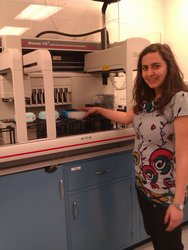 Von Hamburg nach East Lansing: Dr. Dina Jabbours erster Arbeitsplatz als promovierte Biotechnologin ist ein Labor der Michigan State University in East Lansing. Die gebürtige Libanesin arbeitet seit vergangenen November in dieser Kleinstadt im US-Staat Michigan als wissenschaftliche Mitarbeiterin in einem Forscherteam, das den staatlichen Auftrag hat, den Zersetzungsprozess pflanzlicher Biomasse so zu optimieren, damit das Endprodukt Bioethanol als grüner Kraftstoff kostengünstiger wird.
Dina Jabbour wurde im libanesischen Bürgerkrieg – am 19. November 1983– in Saudi Arabien geboren. Mehr als zehn Jahre bis zum Ende des Krieges lebte ihre Familie zwischen beiden Ländern. 2001 machte sie ihr Abitur an einer französischen Schule im Libanon, 2004 ihren Bachelor of Science in Biologie an der American University of Beirut und drei Jahre später ihren Master of Science in Molecular Biology an der Lebanese American University. 2007 kam die Libanesin als Stipendiatin des Deutschen Akademischen Austauschdienstes an das Institut für Technische Mikrobiologie unter Leitung von Professor Garabed Antranikian, dem amtierenden Präsidenten der TUHH, der an der American University of Beirut einst selbst studiert hatte. Ihre Promotion über "Neuartige Enzyme für die Hydrolyse von Cellulose bei erhöhten Temperaturen" schloss Dina Jabbour an der TUHH 2011 ab.
Die deutsche Sprache hatte sie sich zuvor in einem viermonatigen Intensiv-Kursus angeeignet, doch für die alltägliche Kommunikation reichte das Schulbank-Deutsch nicht immer aus. "Ich erinnere mich an das Gespräch meiner Kollegen, die sich im Labor viel über 'Sauerstoff' und 'Stickstoff' unterhielten. Als ich dann eines Tages in einem Cafe die Bedienung bat, mir 'Sauerstoff' zu meinem Kaffee zu bringen, war die Irritation und auch das Gelächter groß. Danach übte ich noch mehr mein Umgangs-Deutsch und lernte den Unterschied zwischen Sauerstoff, Stickstoff und Süßstoff kennen", schreibt sie in einer Mail an die TUHH. Heute spricht Dr. Jabbour fließend vier Sprachen, außer Arabisch, Französisch, Englisch gehört inzwischen auch Deutsch dazu, und sie lernt in den USA eine fünfte: Spanisch.
An der Michigan State University mit ihren mehr als 50 000 Studierenden und damit fast zehnmal so groß wie die TUHH hat sich Dr. Dina Jabbour "eingelebt". Doch hin und wieder packt sie trotz des großen Freizeitangebotes das Heimweh. "Ich vermisse den Libanon und Hamburg sehr", schreibt sie. "Am meisten fehlt mir das kulturelle Angebot, die Fahrten mit Hamburgs S-Bahn und U-Bahn", schreibt sie. Gern und oft denke sie an ihre Kollegen am Institut für Technische Mikrobiologie. Unvergessen sei ihr die deutsche Bürokratie, deren Gründlichkeit sie auch an der TUHH erlebt habe, und in den USA nicht vermisse.
---
TUHH - Public Relations Office
Jutta Katharina Werner
E-Mail: pressestelle@tuhh.de