Dr. Vivien Lutz berät Ingenieurwissenschaftler im Antragsverfahren
15.06.2012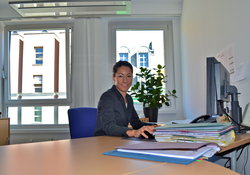 Gut beraten ist, wer Dr.-Ing. Vivien Lutz kennt. Wenn Ingenieur- und Naturwissenschaftler in den neuen Bundesländern regionale Kooperationen zu Forschungszwecken planen und über eine besondere Technologie verfügen, sind sie bei der promovierten Biotechnologin an der richtigen Adresse. Sie begleitet die Entwicklung von langfristigen, am Markt ausgerichteten Strategien, die als Forschung-und Entwicklungsprojekte vom Bundesministerium für Forschung und Entwicklung (BMBF) gefördert werden können. Zudem gibt sie Tipps für das Vorgehen im Dickicht des Antragsverfahrens.
Auch die Prüfung der Anträge dafür fallen in ihren Kompetenzbereich. Außerdem kontrolliert die 31-Jährige genehmigte Vorhaben während ihrer Laufzeit. Für ihren ersten Arbeitsplatz nach der Promotion beim Projektträger Jülich ist Vivien Lutz von Hamburg nach Berlin gezogen, dem Sitz des BMBF sowie anderer deutscher Ministerien, in deren Auftrag ihr Arbeitgeber tätig ist. In der Hauptstadt hat die Alumni der TUHH, seit knapp einem Jahr im Amt, bereits Karriere gemacht. Seit 1. Mai leitet sie den Fachbereich mit dem vielversprechenden Namen "Wachstumskerne" mit elf Mitarbeitern und hat damit auch die Verantwortung für das Förderprogramm "Innovative regionale Wachstumskerne" übertragen bekommen.
Ihr Weg an die TUHH führte über die Hochschule für Angewandte Wissenschaften. Dort studierte sie Biotechnologie. "Ein Studium an der TUHH, das sehr anspruchsvoll ist, habe ich mir damals einfach nicht zugetraut", sagt sie rückblickend. Zum ersten Mal an die TUHH kam Vivian Lutz für ihre Diplomarbeit, um im Labor von Professor Ralf Pörtner zu forschen, den sie aus dem Studium an der HAW kannte. Wenige Monate später wurde sie von einem US-amerikanischen Studenten des Northern Institute of Technology (NIT) Management auf die Idee gebracht, sich am NIT auf dem Campus der TUHH für ein MBA-Studium zu bewerben. Das klappte! Binnen zweier Jahre absolvierte Vivien Lutz dann zwei Abschlüsse: einen Master of Science in ihrem Fall in Biotechnology an der TUHH und den Master of Business Administration am NIT. In dieser Zeit engagierte sie sich am NIT auch als Tutorin vor allem für die meist aus dem Ausland stammenden Kommilitonen. "Ich begleitete diese bei Behördengängen, übersetzte Briefe, holte, wenn nötig, mitten in der Nacht medizinische Hilfe, organisierte Wochenendfahrten", erinnert sie sich an diese zuweilen hektische Zeit, in der sie im Fitnessstudio im Keller des NIT für ihren sportlichen Ausgleich sorgte.
In ihrer Masterarbeit analysierte Vivien Lutz Potenziale für Forschungskooperationen in der Metropolregion Hamburg im Bereich der molekularen Diagnostik. Zu diesem Zeitpunkt war ihr Entschluss zur Promotion gereift. "Ich wollte mich noch einmal intensiv mit einem Forschungsthema auseinandersetzen", sagt sie. Auch die damit verbundene Aussicht auf eine verantwortungsvolle berufliche Tätigkeit sei ihr wichtig gewesen und nicht zuletzt, gibt sie zu, war auch ein bisschen Eitelkeit im Spiel. Mit einem Doktortitel vor dem Namen künftig durchs Leben gehen zu können, schien auch ihr verlockend.
In Professor Ralf Pörtner fand Vivien Lutz einen Doktorvater, zu dem sie "großes Vertrauen" hatte, wie sie sagt, und ein Thema aus der Industrie. Sie promovierte extern und untersuchte im Auftrag der Beiersdorf AG die Folgen der UV-Strahlung auf die Vernetzung des Kollagens in der Haut und entwickelte zugleich eine neue Untersuchungsmethode für die medizinische Praxis. 2011 schloss sie die Promotion ab und hätte gern eine Beratertätigkeit aufgenommen, wäre da nicht der drohende 16-Stunden-Tag gewesen, der sie daran hinderte, sich in entsprechenden Unternehmen zu bewerben. Geregelte Arbeitszeiten, die hat sie nun beim Projektträger Jülich. In Berlins Westen, wo sie mit ihrem Ehemann lebt, findet sie auch wieder Zeit fürs Kickboxen. Diese ganz und gar nicht sanfte Kampfsportart hat Dr. Vivien Lutz während ihrer Promotionszeit entdeckt und nicht mehr losgelassen.
---
TUHH - Public Relations Office
Jutta Katharina Werner
E-Mail: pressestelle@tuhh.de