Mit Schlips und Kragen on the Road: Dr. Viktor Lee ist Unternehmensberater
12.06.2012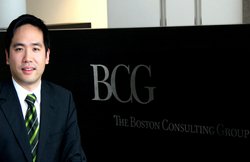 Heute Stuttgart, morgen München und übermorgen Amsterdam, so sieht zuweilen eine Arbeitswoche von Dr. rer. pol. Viktor Lee aus. Der promovierte Wirtschaftsingenieur ist Unternehmensberater der Boston Consulting Group (BCG). Sein Büro befindet sich in seiner Heimatstadt Hamburg, doch dort im siebten Stock des historischen Chilehauses ist Lee eher selten anzutreffen. Die meiste Zeit ist er unterwegs, vorwiegend in Deutschland, aber auch im Ausland, um führende globale Unternehmen in Management und -Strategiefragen zu beraten.
Um was geht es dabei? Beispielsweise war Lee beteiligt an der Online-Strategie eines großen Sportartikel-Herstellers. Auch bei so genannten Restrukturierungs-Projekten und der generellen Ausrichtung von Unternehmen ist Lee gefragt und unterwegs beim Kunden, meist großen Unternehmen. Sich schnell auf immer neue Situationen einzustellen und dabei sein Gegenüber richtig zu interpretieren, fällt dem 31-Jährigen nicht schwer – im Gegenteil. Lee, ein gebürtiger Hamburger mit taiwanesischen Wurzeln, verfügt über das typische Rüstzeug des Wirtschaftsingenieurs. Die schnelle Aufnahme-und Anpassungsfähigkeit gehört, wie er sagt, "zu meinen Kernkompetenzen".
Der Entschluss, diesen Beruf zu ergreifen, stand für Viktor Lee direkt nach seinem Abitur fest. In seinem gewählten Studienfach sah er mehr oder weniger all das vereint, für das er sich damals interessiert hatte: Jura, Betriebswirtschaft, Allgemeine Ingenieurwissenschaften, Mathematik, Philosophie. Lee studierte nach dem Hamburger Modell und damit außer an der TUHH auch an der Uni Hamburg sowie der Hochschule für Angewandte Wissenschaften – und drei Monate an der University of California in Berkeley. Seinen ersten Arbeitsplatz fand der examinierte Wirtschaftsingenieur 2007 als Unternehmensberater bei der Boston Consulting Group. Zwei Jahre später, nach vielen geschäftlichen Reisen inner-und außerhalb Europas, erhielt er das Angebot, am Institut für Technologie- und Innovationsmanagement der TUHH zu promovieren.
"Diese Chance, mich als Generalist einmal intensiv mit einem Thema auseinanderzusetzen, habe ich damals gern angenommen," sagte Lee, der sich dann bis 2011 als Doktorand im Rahmen eines Promotionsprogramms der BCG mit Open Source beschäftigte und in seiner Arbeit die Netzwerke virtueller Communities und Firmen analysierte. In dieser Zeit war Lee auch an der University of Auckland in Australien. Lees Doktorvater, Professor Cornelius Herstatt, kooperiert mit dem dortigen Institut für Innovationsmanagement und sein zweiter Doktorvater lehrt an dieser neuseeländischen Hochschule. "Ich habe in meiner Promotion gezeigt, wie erfolgreich sich die Nutzer mit ihren Vorschlägen etablieren können einerseits und andererseits die Firmen diese Entwicklung selbst positiv beeinflussen können", sagt Dr. Lee, jüngstes von drei Kindern einer taiwanesischen Akademiker-Familie aus Hamburg.
Seit 2011 ist er – inzwischen verheiratet mit seiner langjährigen Freundin – wieder zurück in der Beratung und in seinem Büro im siebten Stock des Chilehauses, wenn er nicht gerade unterwegs auf Geschäftsreisen ist.
---
TUHH - Public Relations Office
Jutta Katharina Werner
E-Mail: pressestelle@tuhh.de