Dr.-Ing. Dr. rer. nat. Dr. rer. pol.
TU Hamburg feiert mit ihrem akademischen Nachwuchs
04.06.2012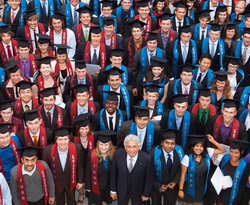 Die TU Hamburg entlässt ihren Nachwuchs! Im festlichen Rahmen werden am Freitag, 8. Juni, um 17 Uhr, Absolventinnen und Absolventen ihre Urkunden entgegennehmen. Zum ersten Mal dabei sind auch promovierte Ingenieure, Wirtschaftsingenieure und Biotechnologen. Ob mit oder ohne Promotion: Welche Zukunft liegt vor Ihnen? Wie erleben die TU-Ingenieure den Fachkräftemangel? Wo finden sie ihren ersten Arbeitsplatz und wie lange mussten sie diesen suchen? In einer 15-teiligen Porträtreihe auf dieser Website geben ab morgen Promovenden und Promovendinnen sowie Absolventen und Absolventinnen der TUHH Auskunft.
Einer von ihnen ist Dr. rer. pol. Viktor Lee. Der Wirtschaftsingenieur arbeitete heute als Unternehmensberater und wird am 8. Juni vorgestellt, an dem Tag, an dem er an seiner Alma Mater stellvertretend für die TUHH-Promovierten 2011 das Grußwort auf der Absolventen-und Promotionsfeier sprechen wird. Diese wird um 17 Uhr von TU-Präsident Professor Garabed Antranikian in der nahe dem Campus gelegenen Friedrich-Ebert-Halle eröffnet. Die Festrede hält Martin Possekel. Der Wirtschaftsingenieur ist Inhaber der Firma Pioniergeist Consulting, Hamburg und spricht unter dem Motto "Ingenieure gestalten diese Welt und bauen unsere Zukunft." Es folgen die Grußworte von Johanna Bätz, die 2011 ihr Maschinenbau-Studium mit dem Bachelor of Science abschloss, und Dr. rer. pol. Viktor Lee. Für den musikalischen Part zeichnet sich der Chor SingING. verantwortlich, die singenden Ingenieurstudierenden der TUHH.
470 junge Ingenieure und Ingenieurinnen sowie Wirtschaftsingenieure und -ingenieurinnen haben an der TUHH im Zeitraum zwischen September 2011 und Februar 2012 ihren akademischen Abschluss zum Bachelor of Science (178), Master of Science (83), Diplomingenieur (197) oder Staatsexamen/Lehramt (12) gemacht.
261 von ihnen, darunter 58 Frauen, werden zur Absolventenfeier kommen, um ihre Urkunde persönlich entgegenzunehmen – in Schärpe und Kappe gekleidet. Dieser so geschaffene äußere Rahmen geht auf eine Initiative des amtierenden Präsidenten Professor Garabed Antranikian zurück, der darin auch eine Form der Würdigung des akademischen Erfolgs sieht. Wer das anspruchsvolle Studium an der TU Hamburg geschafft habe, dem solle auch eine gebührende Anerkennung zuteil werden. Die Farbe der Schärpe zeigt den akademischen Grad: Rot steht für den Bachelor-Abschluss, blau für den Master und -Diplomabschluss und lila für die Promotion.
Dr.-Ing., Dr. rer. nat. Dr. rer. pol. – die meisten TU-Promotionen werden über ein ingenieurwissenschaftliches Thema geschrieben, erst mit großem Abstand folgen die Naturwissenschaften sowie Wirtschaftswissenschaften. So tragen von den 83 Promovierten des Jahres 2011 64 den Titel Dr.-Ing., weitere elf sind Dr. rer. nat., und sieben verlassen als Dr. rer. pol. die TUHH. Ihr Arbeitsplatz ist die Welt, zumindest arbeiten drei der zehn in der Porträtreihe vorgestellten Promovierten im Ausland – den USA, Indonesien, Holland – die anderen haben in Hamburg, Berlin, Köln und Braunschweig ihren ersten Arbeitsplatz gefunden. 29 Promovierte werden zur Feier an ihre Alma Mater zurückkehren, darunter sind fünf der zehn auf der TUHH-Website in den kommenden drei Wochen Porträtierten.
---
TUHH - Public Relations Office
Jutta Katharina Werner
E-Mail: pressestelle@tuhh.de