Harburg goes Swing
Leckerbissen der Jazzliteratur zum zehnjährigen Jubiläum der TUHH-Bigband "SwingIng"
03.02.2012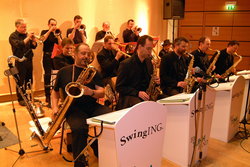 Es gibt einen Grund zum Feiern: Am 28. Januar vor zehn Jahren gründete sich SwingIng, die Big Band der Technischen Universität Hamburg Harburg. Innerhalb dieser Dekade entwickelte sich die anfängliche Freizeitband zu einer fast rein professionellen BigBand, die ihren Rang innerhalb der Hamburger Jazzszene behaupten kann. Das Jubiläumskonzert mit ist gespickt mit Leckerbissen der Jazzliteratur. Es startet am Montag, 6. Februar, um 20 Uhr im Audimax I, Schwarzenbergstraße 95.
Im Januar 2002 trafen sich auf Initiative von Christian Scharfetter, Absolvent der TUHH, und dem Marmstorfer Musiklehrer Gero Weiland, Professoren, Studierende und Profimusiker zur ersten Probe. Es war die Geburtsstunde der SwingIng. Kommenden Montag werden die Sängerinnen Patricia Salas und Birgit Heinsen sowie Sänger und Moderator Tim Swan ihre Favoriten vorstellen, getreu nach dem Motto "Simply The Best". Freunde des Swing und Jazz dürfen sich auf ein rund zweistündiges Programm mit Hits wie "Told You So", "ShinyStockings", I Know Why", "Don't Be that Way", "Luck Be A Lady" und "Besame Mucho" freuen.
Nach zehn Jahren BigBand zieht Gründer Gero Weiland eine positiv Bilanz. Außergewöhnliche Projekte sind bereits avisiert. Geplant ist eine Veranstaltung mit Karim Khawatmi, "dem Mann mit der Tom Jones Stimme", so Weiland. Khawatmi spielt in dem Musical "Ich war noch niemals in New York" mit Songs von Udo Jürgens, den Hauptdarsteller Axel Stauder. Außerdem plant Trompeter Weiland einen Abend mit Jochen Wiegandt, Moderator der NDR Hörfunksendung "Sonntakte". Wiegandt habe plattdeutsche Texte für den Swing geschrieben. "Wir möchten den Beweis anstellen, dass Platt und Swing bestens harmonieren", sagt der Gründer der BigTUHHBand.
Der Eintritt ist frei.
---
TUHH - Public Relations Office
Martina Brinkmann
E-Mail: pressestelle@tuhh.de