Vom Hörsaal ins Unternehmen
TU Hamburg verabschiedet 400 junge Ingenieure
25.11.2011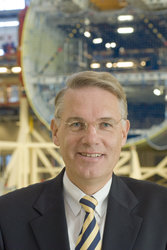 Mit mehr als 650 Gästen werden zur zweiten Absolventenfeier 2011 der Technischen Universität Hamburg-Harburg so viele Ingenieure und Ingenieurinnen mit ihren Angehörigen und Freunden aus dem In-und Ausland erwartet wie noch nie. Der feierliche Rahmen, in dem Hamburgs Technische Universität im Audimax I ihre Absolventen entlässt, findet offensichtlich immer mehr Anhänger.
Nahezu 400 Studierende des Maschinenbaus, der Verfahrenstechnik, der Elektrotechnik, des Bauingenieurwesens, der Management-Wissenschaften und des Gewerblich-Technischen Bereichs absolvierten zwischen März und August dieses Jahres ihr TUHH-Studium, 152 davon mit einem Bachelor, 44 mit einem Master of Science, 176 mit einem Diplom und 26 mit einem Staasexamen. Mehr als die Hälfte von ihnenwird am Festakt teilnehmen, um die Urkunde persönlich entgegenzunehmen – in Schärpe und Kappe nach US-amerikanischem Vorbild. Dieser auch mit einer besonderen Kleidung geschaffene äußere Rahmen der TUHH-Absolventenfeier hat der neue Präsident, Professor Garabed Antranikian, eingeführt – als Form der Würdigung des akademischen Erfolgs. Wer das anspruchsvolle Studium an der TU Hamburg geschafft habe, dem solle auch eine gebührende Anerkennung zuteil werden.
"Wissenschaft und Forschung sind die Grundlagen für eine bessere Zukunft. Verantwortlich handelnde und für den modernen internationalen Arbeitsmarkt bestens vorbereitete junge Ingenieure und Ingenieurinnen sind unser Kapital. Deswegen freue ich mich besonders, dass wir so viele junge Absolventen beim Festakt begrüßen und diesen erfreulichen Anlass zusammen mit all den Angehörigen und Freunden aus dem In- und Ausland feiern können," sagte der Präsident der TUHH, Professor Garabed Antranikian.

Zu Beginn des Festaktes wird der Unichef die Gäste im Audimax begrüßen.
Die Festrede hält ein Alumni der TUHH: Dr. Georg Mecke. Der gebürtige Bremer ist heute Standortleiter bei Airbus in Hamburg. Mecke gehört zu den ersten Doktoranden der 1978 gegründeten TUHH. Er promovierte 1987 bei Professor Dierk-Götz Feldmann am damaligen Institut für Konstruktionstechnik, heute: Produktentwicklung und Konstruktionstechnik, der TUHH.
Als Vertreter der 400 Absolventen, darunter 89 Frauen und 48 Studierende aus dem Ausland, wird Leo Krüger ein Grußwort sprechen. Der 24-jährige Hamburger hat im Mai 2011 seine Bachelor-Arbeit im Studiengang Informatik-Ingenieurwesen geschrieben und sich für eine Fortsetzung seines Studiums an der TUHH zum Master of Science in Informatik-Ingenieurwesen entschieden. Als herausragendes Merkmal seines TUHH-Studiums nennt Krüger das "sehr gute Betreuungsverhältnis zwischen Hochschullehrer und Studierenden", für das er sich nicht zuletzt auch im Fachschaftsrat engagierte.
Zur ersten Absolventenfeier in diesem Jahr am 24. Juni für die insgesamt 360 Studierenden des Zeitraums zwischen August 2010 und Februar 2011 waren etwa 190 Absolventen gekommen.
Absolventen der TU Hamburg-Harburg 2011 und ihr erster Arbeitsplatz.
Ob Großkonzern oder mittelständisches Unternehmen, Ingenieure und Ingenieurinnen der TUHH sind auf dem Arbeitsmarkt sehr gefragt wie folgende Kurzporträts von elf der 400 Absolventen 2011 zeigen:
http://www.tu-harburg.de/ … n/medien/absolventen.html
---
TUHH - Public Relations Office
Jutta Katharina Werner
E-Mail: pressestelle@tuhh.de