Unichef Antranikian stärkt Forschungskooperationen mit Singapur
30.08.2011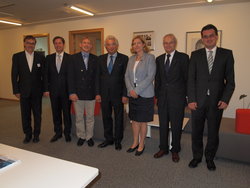 Wenn sie ertragreich sein wollen, müssen Forschungskooperationen mit ausländischen Universitäten wie der Rebstock im Weinberg rund ums Jahr gepflegt werden. Vor diesem Hintergrund hat der Präsident der TUHH fünf Monate nach seinem Amtsantritt seine erste offizielle Auslandsreise angetreten. Professor Garabed Antranikian flog in Begleitung einer neunköpfigen Wissenschaftler-Delegation der TUHH in den asiatischen Stadtstaat, deren fünf Millionen Bewohner zu den wohlhabendsten auf der Welt gehören: nach Singapur. Ziel der achttägigen Tour ist die Pflege bestehender und der Aufbau neuer Forschungskooperationen mit den führenden Universitäten des Inselstaates: der National University of Singapure (NUS) sowie der Nanyang Technological University (NTU) und weiteren Bildungseinrichtungen.
Zu den Teilnehmer der Reise gehören die Professoren Jürgen Grabe (Geotechnik und Baubetrieb), Dieter Gollmann (Sicherheit in verteilten Systemen), Carlos Jahn (Maritime Logistik), Wolfgang Kersten (Logistik und Unternehmensführung), Dieter Krause als Vizepräisdent Lehre, Michael Morlock (Biomechanik) sowie Emeritus Rainer Stegmann, der auf seinem Fachgebiet Umwelttechnik und Energiewirtschaft zurzeit in Singapur forscht und lehrt, sowie Andreas Timm-Giel (Kommunikationsnetze). Organisiert wurde die Reise von Dr. Lothar Kreft, Oberingenieur am Institut für Kommunikationsnetze und Experte für Auslandskontakte an der TUHH.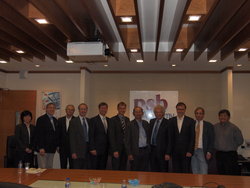 Singapurs Hafen ist einer der modernsten und größten Umschlagplätze der Welt. An Gesprächen mit Experten auf diesem Gebiet sind besonders Professor Jürgen Grabe als Sprecher des Graduiertenkollege "Seehäfen für Containerschiffe der Zukunft" interessiert sowie die Logistiker Wolfgang Kersten und Carlos Jahn. Alle drei werden an einem ganztägigen Workshop über "Green Logistics" der National University of Singapore teilnehmen. Parallel dazu steht der Besuch der German European School of Singapore sowie der Singapore University of Technology and Design auf dem Programm. Es folgt am Donnerstag ein Empfang auf Einladung der Präsidien beider Universitäten, NUS und NTU, sowie am Freitag eine Reihe von Firmenbesuchen. Singapur ist bestrebt, ein biotechnologisches Zentrum Asiens zu werden. Diesen Part der Wissenschaft wird in Gesprächen Professor Antranikian vertreten.
Am ersten Tag ihres Singapur-Aufenthaltes wurde die Delegation der Hamburger Wissenschaftler in der deutschen Botschaft begrüßt. Außerdem bestand Gelegenheit zu einer Besichtigung des von der TU München gegründeten German Institute of Science and Technology sowie des privaten Polytechnikums, der PSB Academy.
Als Vizepräsident Lehre wird Professor Dieter Krause an Gesprächen teilnehmen, in deren Vordergrund gemeinsame Masterprogramme stehen. Außerdem wird es ein Wiedersehen mit acht Studierenden der TUHH geben, die in Singapur ein Auslandssemester verbringen – und einem Alumni.
---
TUHH - Public Relations Office
Jutta Katharina Werner
E-Mail: pressestelle@tuhh.de