NIT-Studierende an der TUHH: Mit Medizintechnik in die Spitze
NIT-Studierende belegten zweiten Platz beim Bangkok Business Challenge:
27.07.2011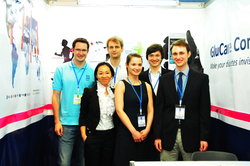 Anna Porowska, Natalia Tomiyama, Andrzej Stepan und Moritz Göldner vom Northern Institute of Technology Management (NIT) an der TU Hamburg haben es beim internationalen Unternehmens-Planspiel "Mai Bangkok Business Challenge 2011" an die Spitze geschafft. Das NIT-Team, dem auch TU-Doktorand Maximilian Bee angehörte, erreichte den zweiten Platz. Damit gehören die Hamburger als einziges europäisches Team zu den Siegern dieses internationalen Wettbewerbs.
Preisgekrönt wurde ihre Idee eines Implantats, das unsichtbar unter der Haut getragen zur Messung des Blutzuckerspiegels eingesetzt wird und kombiniert ist mit einer Smartphone-App zum Auslesen, Speichern und Weiterverarbeiten der Daten. In diesem Kontext bekam sowohl die Präsentation der Geschäftsidee als auch der dazugehörige Business-Plan eine sehr positive Bewertung.
"Es ist ein schöner Beweis für die hohe Qualifikation unserer Studierenden", sagte der Geschäftsführer des NIT, Dr. Christoph Jermann. Mit diesem Ergebnis sei die Qualität der akademischen Ausbildung am NIT mit seinem einzigartigen Doppelstudium zum Technologie Manager einmal mehr bestätigt worden. Das NIT-Team habe sich auch in diesem Jahr wieder erfolgreich gegen Teams der führenden europäischen Business Schools behaupten können wie der Leipzig Graduate School of Management, der Otto Beisheim School of Management in Vallendar und der franzöischen Business Schools INSEAD und ESSEC
66 Teams aus aller Welt beteiligten sich in diesem Jahr im Mai beim "Mai Bangkok Business Challenge". 16 erreichten das Halbfinale und waren nach Bangkok eingeladen worden.
Unter den Finalisten waren außer dem Hamburger NIT-Team auch Studierende renommierter internationaler Business-Schools.
Zu den Mentoren und Sponsoren des erfolgreichen NIT-Teams gehören Professor Dr. Thomas J. C. Matzen, Tim Schiederig von der Thomas J.C. Matzen GmbH, Christoph Jung, Alumni des NIT. Die Finanzierung des Flugs übernahmen die Körber-Stiftung und der Arbeitgeberverband NORDMETALL.
Weitere Informationen:
http://www.bbc.in.th/
Bärbel Witt (NIT) baerbel.witt@tu-harburg.de
Moritz Göldner, moritz.goeldner@tu-harburg.de
---
TUHH - Public Relations Office
Jutta Katharina Werner
E-Mail: pressestelle@tuhh.de