Evgeny-Paton-Preis für Professor Fricke
18.07.2011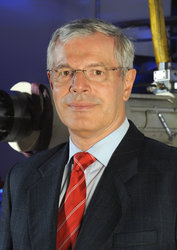 Prof. Dr.-Ing. Wolfgang Fricke von der Technischen Universität Hamburg-Harburg ist mit dem Evgeny-Paton-Preis ausgezeichnet worden. Der promovierte Schiffbauingenieur nahm die Ehrung im indischen Chennai anlässlich der Jahrestagung des Internationalen Schweißverbandes (IIW) am 17. Juli 2011 entgegen.
Der zweijährliche, vom Nationalen Schweißverband der Ukraine sowie dem E.O- Paton- Electric-Welding- Institute in Kiew gestiftete Preis wird an Personen vergeben, die mit ihrer Forschung und Technologie einen ganz wesentlichen Beitrag zur Forschung und Entwicklung der Schweißtechnik leisten und in ihrem Lebenswerk diesem Spezialgebiet breiten Raum geben.
Materialermüdung an Schiffen und Flugzeugen, Autos und Brücken sowie Kraftwerken und zunehmend auch an Windkraft-Anlagen führen jährlich weltweit zu Schäden in Milliardenhöhe. Frickes Spezialgebiet sind sowohl experimentelle als auch numerische Untersuchungen geschweißter Konstruktionen bei Materialermüdungen. Auf diesem Feld der Wissenschaft forschen zurzeit an der TUHH fünf Nachwuchswissenschaftler am Institut für Konstruktion und Festigkeit von Schiffen der TUHH unter Leitung des Schweißexperten Wolfgang Fricke.
Wolfgang Fricke leitet auch seit mehr als zehn Jahren eine internationalen Arbeitsgruppe, die sich gezielt mit zyklischen Spannungen in Schweißnähten auseinandersetzt. Ingenieurwissenschaftler aus Deutschland, England, Frankreich, Japan und Skandinavien ermitteln die für diesen Prozess relevanten Einflussfaktoren mit dem Ziel, Richtlinien zur Ermittlung der so genannten Strukturspannungen und effektiven Kerbspannungen an Schweißverbindungen zu formulieren. Diese Erkenntnisse werden sowohl in der Konstruktion als auch zur Schadensbeurteilung genutzt.
Der 62-jährige Wissenschaftler Fricke folgte vor elf Jahren einem Ruf an die TU Hamburg als Leiter des Instituts für Konstruktion und Festigkeit von Schiffen, zuvor war er beim Germanischen Lloyd tätig.
English Text:
Prof. Dr.-Ing. Wolfgang Fricke from Hamburg University of Technology (TUHH) has been honoured with the Evgeny Paton Prize. The naval architect reveived the award in Chennai, India, on the occasion of the Annual Assembly of the International Institute of Welding (IIW) on July 17, 2011.
The prize, sponsored by the National Welding Committee of the Ukraine and the E.O. Paton Electric Welding Institute, is awarded to an individual who has made a significant contribution to science and technology through his lifetime dedication to applied research and development in the field of welding and allied processes.
Fatigue of materials in ships and aircraft, cars and bridges as well as power plants and increasingly also in wind energy converters create damages valued billions per year world-wide. The specialties of W. Fricke are experimental and numerical investigations of welded structures subjected to fatigue. In this scientific field, five research co-workers are currently working at the Institute of Ship Structural Design and Analysis at TUHH under supervision of the welding expert Wolfgang Fricke.
Wolfgang Fricke also has chaired for more than ten years an international working group in IIW which deals with cyclic stresses in welds. Engineering scientists from Germany, England, France, Japan, Scandinavia etc. analyse the relevant influence factors with the objective to formulate guidelines for the determination of so-called structural hot-spot stresses and notch stresses at welded joints. The guidelines are utilized in structural design as well as in assessments of fatigue failures.
The 62 years old scientist Fricke received eleven years ago a call from TU Hamburg to become head of the Institute of Ship Structural Design and Analysis, before that he was working at Germanischer Lloyd.
---
TUHH - Public Relations Office
Jutta Katharina Werner
E-Mail: pressestelle@tuhh.de