INNOTECH-Preis 2011: TUHH-Team erreicht dritten Platz
13.05.2011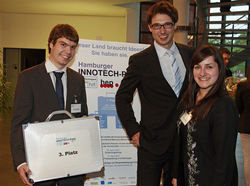 Das TUHH-Team Prof. Irina Smirnova, Dr. Carsten Zetzl, Christian Kirsch, Lilia Perez-Cantu, Marcel Heymuth und Krishan Gairola haben mit ihrem "Konzept €=mp² – Wertschöpfung aus Biomasse" den dritten Preis des Hamburger INNOTECH-Wettbewerbs gewonnen.
Mit Hochdruck zur Wertschöpfung aus Biomasse, das ist – im wahrsten Sinne des Wortes – die Geschäftsidee des Teams von der TUHH. Das Ziel ist die Gewinnung hochwertiger Chemikalien aus Biomasse, wobei die bisher nur wenig rentable Verwertung industrieller Bioabfallstoffe der Lebensmittel- und Agrarindustrie – z.B. Biertreber, Reisschleifmehl, Weizenkleie, Kakaoschalen oder Kantinenabfälle – ermöglicht werden soll.
Der INNOTECH-Preis wird seit 2005 jährlich vom hit-Technopark und der TuTech Innovation GmbH ausgeschrieben und ist einer der herausragenden Wettbewerbe in der Hamburger Wirtschaft. Mit dem Preis ausgezeichnet werden innovative Denker, Gründer und junge Unternehmer mit Ideen für die Zukunft. Gestern abend wurde der Preis in Anwesenheit von Dr. Bernd Egert, Staatsrat der Behörde für Wirtschaft, Verkehr und Innovation im Hamburger hit-Technopark verliehen.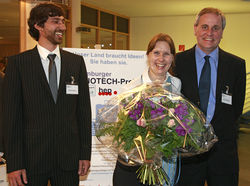 Sieger des diesjährigen Hamburger INNOTECH-Wettbewerbs ist das Team Tobias Hiddemann, Stefan Muth und Alexander Bauer mit ihrer Gründungsidee "iFeedback – Listen to the Silent Majority", einer innovativen Kommunikationslösung für dienstleistende Unternehmen.
Platz zwei gewinnt das Team Gunnar Kron und Wilfried Sorge mit ihrer Entwicklung HDSX® (High Definition Sound Expansion).
Der erste Preis ist mit dem Wolfram-Birkel-Sonderpreis in Höhe von 3.000 Euro dotiert, der zweite Gewinner erhält den Henner-Dingfelder-Sonderpreis in Höhe von 2.000 Euro und der dritte Platz wird mit dem TuTech-Sonderpreis von 1.000 Euro belohnt. Darüber hinaus erhalten die Gewinner jeweils einen von drei exklusiven "INNOTECH-Koffern" mit wertvollen Sachpreisen, die die ersten Schritte in die Selbstständigkeit erleichtern. Der Preis wird in einer zweiten Stufe durch die Hamburger INNOTECH SUMMER SCHOOL ergänzt, in der - in Zusammenarbeit mit der Leuphana Universität Lüneburg - einmal jährlich innerhalb einer Woche den Preisträgern und bis zu 20 weiteren Gründern Basiswissen zur Unternehmensgründung vermittelt wird.
Als Gastredner bei der feierlichen Preisverleihung am 12. Mai im hit-Technopark mit rund 100 Teilnehmern aus Wirtschaft, Wissenschaft und Politik freut sich Dr. Bernd Egert, Staatsrat der Hamburger Behörde für Wirtschaft, Verkehr und Innovation, mit den Gewinnern. "Wir brauchen mehr mutige Gründer wie diese, denn Wissenschaft, Forschung und Technologieentwicklung spielen eine Schlüsselrolle für die Entwicklung unserer Stadt. Alle Gewinner vereinen außergewöhnlichen Innovationsgeist, Mut und Fachkenntnis, also beste Voraussetzungen für ein erfolgreiches Unternehmertum, das langfristig für neue Arbeitsplätze sorgt."
Text: Allister Loder
---
TUHH - Public Relations Office
Jutta Katharina Werner
E-Mail: pressestelle@tuhh.de