Cambridge-Professor spricht über die Simulation von Granulationsverfahren
28.04.2011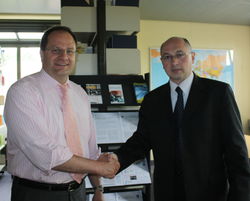 Zum Thema "Multidimensionales Populations-Bilanz-Modell für Granulation" spricht heute Professor Markus Kraft von der Universität Cambridge an der TUHH. Dem Institut für Feststoffverfahrenstechnik und Partikeltechnologie ist es gelungen, den international anerkannten Spezialisten auf dem Gebiet der Granulation und Agglomeration für einen Vortrag im Rahmen des jährlichen verfahrentechnischen Kolloquiums zu gewinnen. Im Zentrum dieser gemeinsamen Forschungsarbeit zwischen der TU Hamburg sowie der renommierten englischen Universität steht die Entwicklung von Produktionsprozessen unter anderem für die Pharma- oder Lebensmittelindustrie.
Professor Kraft lehrt und forscht am Department of Chemical Engineering and Biotechnology auf dem Gebiet des wissenschaftlichen Rechnens für Partikelprozesse und Verbrennung. In Hamburg wird er über theoretische Betrachtungen zur Granulation sowie Erzeugung von Partikeln referieren. Besondere Aufmerksamkeit gilt dabei einem neuen mehrdimensionalen Populationsbilanzmodell für die Nassgranulation von Partikeln. Weiterhin stellt er eine Methode vor, die mathematische Lösungen für Probleme dieser komplexen Modelle aufzeigt.
Das Kolloquium findet zweimal monatlich statt, in diesem Jahr zum ersten Mal im Rahmen des "Materialwissenschaftlichen Kolloquiums" des Landesexzellenzclusters "Integrated Material Systems". Professor Markus Kraft ist heute und morgen an der TUHH, außer dem Vortrag wird er verschiedene Institute besuchen und sich in den Einrichtungen der Universität informieren.
---
TUHH - Public Relations Office
Jutta Katharina Werner
E-Mail: pressestelle@tuhh.de