Viertes Europäisches Lisp Symposium an der TUHH
31.03.2011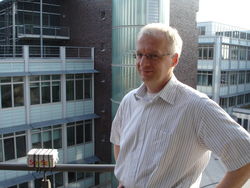 Nach Bordeaux, Mailand und Lissabon findet das vierte Europäische Lisp Symposium an der TUHH statt. Außer Vorträgen von IT-Experten über Forschungs- und Praxisergebnisse der Lisp-Programmierung, gibt es an zwei Tagen für Fachkundige, Studenten und andere Interessierte am 31.März und 1.April viele Gelegenheiten zum Kennenlernen und Erfahrungsaustausch. Ort: das Wissenschaftliche Kommunikationszentrum im Gebäude D.
Lisp steht für eine der flexibelsten Programmiersprachen überhaupt. Das jährlich stattfindende Lisp Symposium bietet ein Forum zur Diskussion, Information und zum Wissenstransfer zu verschiedenen Aspekten der Entwicklung, Implementierung und Anwendung vieler Dialekte von Lisp. Im Mittelpunkt der Veranstaltung stehen Veröffentlichungen zu neuen Forschungsergebnissen sowie Erfahrungswerte, die aus der praktischen Anwendung gewonnen wurden, aber auch Beiträge zu bereits bekannten Aspekten der Lisp-Forschung, zu denen neue Erkenntnisse vorliegen. Den lokalen Vorsitz des Symposiums hat Prof. Ralf Möller vom Institut für Softwaresysteme an der TUHH. Den Vorsitz des Programmkomitees übernimmt für das vierte Lisp-Symposium Dr. Didier Verna von der EPITA Privat-Hochschule für Informatik in Paris.
Zu den Referenten gehört unter anderen Craig Zilles von der Universität Illinois, der den ersten Keynote-Vortrag zum Thema "Compilling for the Common Case" hält. Marc Battyani, Mitbegründer von Nova Sparks, spricht über "Reconfigurable Computing on Steroids: Using Common Lisp to Generate Domain Specific Hardware". Der Vortrag seines Kollegen Apostolos Syropoulos trägt den vielversprechenden Titel "Scala: An OO Surprise". Syropoulos ist Autor mehrer Bücher, unter anderem Mit-Autor von "Steps in Scala: An Introduction to Object-Functional Programming". Darüber hinaus wird es Diskussionsrunden, Sessions und zahlreiche Möglichkeiten zum Austausch geben.
Im Mittelpunkt des diesjährigen Symposiums steht "Parallelismus & Effizienz", dabei werden unter anderem folgende Themen behandelt:
Paralleles und verteiltes Programmieren

Code-Generierung für Multi-Core-Architekturen

Code-Generierung für Hardware Transactional Memory

Große und übergroße Systeme

Optimierungstechniken

Eingebettete Anwendungen

Sprachdesign und Implementierung

Sprachintegration, Kompatibilität und Verwendung

Verschiedene Aspekte von Entwicklungsmethoden

Pädagogische Ansätze und Perspektiven

Erfahrungsberichte und Fallstudien
Das detaillierte Programm: http://www.european-lisp-symposium.org/
Für Rückfragen:
Institut für Softwaresysteme
Prof. Dr. Ralf Möller
Tel. 040/42878-3462
E-Mail: r.f.moeller@tu-harburg.de
---
TUHH - Public Relations Office
Jutta Katharina Werner
E-Mail: pressestelle@tuhh.de