Der neue Name in der Werkstoffphysik in Hamburg
Jörg Weißmüller forscht an der TU Hamburg-Harburg und im Helmholtz-Zentrum Geesthacht
09.12.2010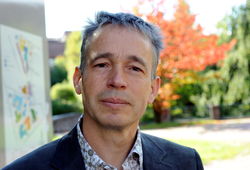 Die Wissenschaft der Werkstoffphysik hat in Hamburg einen neuen Namen: Jörg Weißmüller aus Karlsruhe ist neuer Leiter des Institut für Werkstoffphysik und Technologie an der Technischen Universität Hamburg-Harburg (TUHH) sowie der Arbeitsgruppe "Hybride Materialsysteme' am Institut für Werkstoffmechanik des Helmholtz-Forschungszentrums in Geesthacht.
Die Entwicklung neuartiger Nanomaterialien als Funktions- und Strukturwerkstoffe sind der Schwerpunkt in der Forschung des gebürtigen Saarländers. Dabei gilt ein besonderes Interesse den Material- und Grenzflächenwissenschaften. Im Fokus stehen die Themen: Mechanik und Thermodynamik von Festkörpergrenzflächen, Elektrodenoberflächen, Phasenumwandlungen, sowie die Mechanismen der plastischen Verformung. Weißmüller verfolgt auch Beugungsexperimente mit Röntgen- und Neutronenstreuung.
"Materialforschung mit internationalem Spitzencharakter, die zugleich einhergeht mit der Ausbildung exzellenter junger Experten ist ein wesentlicher Technologie- und Wettbewerbsfaktor", sagt Weißmüller. An der TUH spiegele sich diese große Bedeutung einer exzellenten Materialforschung im Cluster "Integrierte Materialsysteme" der Landesexzellenzinitiative Hamburg wider. Gerade in der noch jungen Klasse der Nanomaterialien lägen neue und weitgehend unerforschte Gestaltungsmöglichkeiten in der Werkstoffentwicklung. Als Beispiel führt Weißmüller den gezielten Einsatz von Grenzflächen- und Größeneffekten zur Modifikation des Materialverhaltens an. Die in seiner Arbeitsgruppe entwickelten "Muskeln aus Metall" - elektrisch steuerbare metallische Aktuatormaterialien - belegen, wie durch die Strukturierung auf der Nanoskala ein Material eine neuartige Funktionalität erhalten kann. Hier sei es die elektrisch steuerbare Volumenänderung, die in herkömmlichen Metallen nicht beobachtet wird. Auch der Einsatz konventioneller Stoffsysteme für miniaturisierte Bauteile in den Nanotechnologien brächte erhebliche Herausforderungen für die Forschung mit sich. Die grundlegend neuen Attribute von Nanomaterialien - das nanoskalige Gefüge und die Marginalisierung von bekannten Volumeneigenschaften in Anbetracht der kontrollierenden Rolle von Grenzflächen- und Größeneffekten sowie ihre Implikationen für die Funktion und Eigenschaften - seien nur in Ansätzen verstanden.
Jörg Weißmüller studierte Werkstoffwissenschaften an der Universität des Saarlandes in Saarbrücken sowie der University of Dundee, Scotland. Nach seiner Promotion über Grenzflächen in Nanomaterialien an der Universität Saarbrücken sowie am Centre de Recherche sur les Mécanismes de la Croissance Cristalline, Marseille 1990 war er wissenschaftlicher Mitarbeiter am Institut für Neue Materialien in Saarbrücken und als Feodor-Lynen-Stipendiat der Alexander-von-Humboldt Stiftung Gastwissenschaftler (bei J.W. Cahn) am National Institute of Standards and Technology in Gaithersburg/USA. 1998 habilitierte er sich an der Universität des Saarlandes mit venia legendi in Experimentalphysik. Im gleichen Jahr wechselte der Heisenberg-Stipendiat zum Institut für Nanotechnologie des Forschungszentrums Karlsruhe - bis zu seiner Rufannahme an die TUHH.
Weißmüller ist Koordinator der DFG-Forschergruppe ""Plastizität in Nanokristallinen Metallen und Legierungen". Er war Organisator zweier internationaler Konferenzen (Functional Nanostructures 2003 Conference and Summer School; International Workshop on the Plasticity of Nanocrystalline Metals 2008) sowie mehrerer Symposien bei nationalen (Deutsche Physikalische Gesellschaft Frühjahrstagung 2009; MatWerk Materials Science and Engineering 2008) und internationalen (Materials Research Society Spring 2005, American Association for Crystal Growth 2009) Tagungen. Zudem ist der 50-jährige Wissenschaftler Autor von etwa 120 Publikationen in referierten Zeitschriften sowie von mehr als 60 eingeladenen Vorträgen; er hält mehrere Patente.
Kontakte:
Institut für Werkstoffphysik und Technologie
Prof. Dr. nat. Jörg Weissmüller
Tel.: 040/ 42878-3035
E-Mail: weissmueller@tuhh.de
---
TUHH - Public Relations Office
Jutta Katharina Werner
E-Mail: pressestelle@tuhh.de