Diplompreis für TUHH-Absolventen Sebastian Müller für herausragende Leistungen
30.11.2010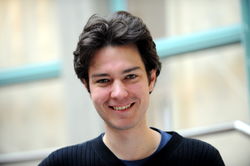 Sebastian Müller erhält heute den mit 1500 Euro dotierten Diplompreis der Stiftung zur Förderung der TU Hamburg-Harburg. Der 24-jährige gebürtige Hamburger wird für seine Arbeit - "Einbeziehung von Vielfachstreifenleitungen in ein quasianalytisches Modell für mehrlagige Leiterplatten" - über die Berechnung des elektrischen Verhaltens von Verbindungsstrukturen, wie sie zum Beispiel in PC oder Großrechnern auftauchen, ausgezeichnet. Dazu hat er am Institut für Theoretische Elektrotechnik eine Software entwickelt, die es innerhalb eines größeren Programms ermöglicht, mehrlagige Leiterplatten effizient zu berechnen. In Verknüpfung mit weiteren Programmteilen ist mit Hilfe seiner Arbeit eine hundert- bis tausendfach schnellere Simulation von Leiterplatten möglich.
Der Diplompreis ist die zweite Auszeichnung des Elektrotechnik-Ingenieurs. Bereits für seine Bachelorarbeit war er von der deutschen Sektion der IEEE Electromagnetic Compatibility Society mit dem "Best Bachelor Thesis of the Year Award" ausgezeichnet worden.
Müller, der seit April dieses Jahres als wissenschaftlicher Mitarbeiter am Institut für Theoretische Elektrotechnik unter Leitung von Professor Christian Schuster forscht, strebt eine Dissertation an, die das Thema seiner Diplomarbeit vertiefen soll. Der Ingenieur hat ein Doppelstudium absolviert: Nach dem Bachelor-Studium der Allgemeinen Ingenieurwissenschaften, studierte Müller Elektrotechnik an der TUHH und parallel am Northern Institute of Technology Management (NIT) Technologiemanagement. Binnen zwei Jahren, von 2007 bis 2009, absolvierte er zwei Abschlüsse: das Diplom in Elektrotechnik und den MBA in Technologiemanagement. Den Preis für das anspruchsvolle Doppelstudium: eine 60-Stunden-Woche und wenig Freizeit. "Mich hat die am NIT angebotene Fächerkombination Managementfähigkeiten, Ethik und interkulturelle Kompetenz sehr gereizt, und diese zusätzliche Qualifikation möchte ich als Ingenieur nicht missen", sagt Müller, der an dieser internationalen Business School auf dem Campus der TUHH auch begonnen hat, Chinesisch zu lernen. Die Beschäftigung mit dieser Sprache führt der Doktorand auch nach dem Abschluss seines Studiums fort - zurzeit im Kursus Chinesisch III, der in diesem Semester an der TUHH angeboten wird.
Für Rückfragen:
Institut für Theoretische Elektrotechnik
Prof. Christian Schuster
Tel.: 040/42878-3116
E-Mail: schuster@tuhh.de
---
TUHH - Public Relations Office
Jutta Katharina Werner
E-Mail: pressestelle@tuhh.de