Die TUHH verabschiedet ihre Absolventen in der Hauptkirche St. Michaelis
Festrednerin ist die Schiffsmaschinenbauingenieurin Christina Vossen
12.11.2010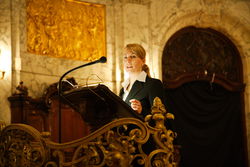 272 Absolventen der Technischen Universität Hamburg-Harburg, die zwischen dem 1. März 2010 und dem 31. August 2010 ihren Abschluss erworben haben, werden am Montag, 15. November, um 18 Uhr im Hamburger Michel gebührend gefeiert. Traditionell wird die Feierstunde in Kooperation mit der Handwerkskammer Hamburg abgehalten, die ihrerseits 514 frisch ernannte Meisterinnen und Meister verabschiedet. Die größte Gruppe der TUHH-Absolventen bilden die Maschinenbauingenieure, gefolgt von den Elektrotechnikern, den Informatikingenieuren und den Absolventen der Gewerblich-technischen Wissenschaften.
Von der TUHH haben sich 151 Absolventen als Teilnehmer angemeldet, um ihre Urkunden zum Bachelor of Science, Master of Science oder das Diplom in den Ingenieurwissenschaften persönlich in Empfang zu nehmen. Zum Auftakt der Feier werden in einer Talkrunde die Präsidenten der TU Hamburg und der Handwerkskammer Hamburg, Prof. Dr.-Ing. Edwin Kreuzer und Josef Katzer mit ihrem Gast Lars Hinrichs, dem Gründer des weltweiten Internet-Netzwerks Xing, über das Thema "Selbständigkeit" diskutieren. Die Festreden halten die Diplomingenieurin für Schiffsmaschinenbau Christina Vossen und der Tischlermeister Sönke Burwieck. Als erfolgreicher Existenzgründer wird Bäckermeister Heiko Fehrs zu den mehr als 2500 Gästen im Michel sprechen.
Christina Vossen, die als Vertreterin der Absolventen der TU Hamburg-Harburg die Festrede hält, ist ein positives Beispiel für die ungebrochen positiven Berufsaussichten junger Ingenieurinnen und Ingenieure. Um an der Absolventenfeier teilnehmen zu können, nimmt sie eine längere Anreise in Kauf. Bereits fünf Wochen nach ihrer letzten Prüfung hat die heute 25-Jährige Hamburg verlassen, um im niederländischen Vlissingen ihre erste Stelle als so genannter Proposal Engineer bei DAMEN Schelde Naval Shipbuilding anzutreten. Dort absolvierte sie bereits ihr Fachpraktikum und schrieb ihre Diplomarbeit. Als Festrednerin wurde die Diplomingenieurin vom Präsidium der TUHH vorgeschlagen, weil ihr Weg nicht nur erfolgreich, sondern auch besonders interessant verlief.
Schon als kleines Mädchen spielte sie am liebsten mit Lego, wählte nach dem Abitur das nicht einfache Grundstudium im Maschinenbau, um sich anschließend der Vertiefungsrichtung Schiffsmaschinenbau zu widmen. Als eine von zehn Frauen war sie in ihrem Jahrgang im Studiengang Maschinenbau an der TUHH ziemlich allein unter Männern.. An der NTNU im norwegischen Trondheim, wo sie ein Auslandsjahr verbrachte, sah es in dieser Hinsicht schon etwas anders aus. "Hier waren ungefähr 20 Prozent der Studierenden Frauen." In Norwegen sammelte sie vor allem wertvolle Erfahrungen in der Teamarbeit, vor allem aber sei der mit einem Auslandsjahr einhergehende Blick über den kulturellen Tellerrand für ihren jetzigen Beruf förderlich. Während ihrer Tätigkeit auf der niederländischen Werft hat die Ingenieurin innerhalb kurzer Zeit fließend niederländisch gelernt. Dort ist sie allein unter Männern."Ich bin auf der gesamten Werft die einzige Frau mit einem Universitätsstudium", sagt Vossen. "Wenn Mitarbeiter aus anderen Abteilungen hereinkommen, erlebe ich häufig, dass sie als erstes auf meinen Schreibtisch zugehen, weil sie denken, ich sei die Sekretärin." Was dagegen hilft? "Schlagfertig sein und beweisen, dass ich etwas von meinem Fach verstehe."
---
TUHH - Public Relations Office
Jutta Katharina Werner
E-Mail: pressestelle@tuhh.de