NIT verabschiedet Absolventen mit zwei Abschlüssen
13.09.2010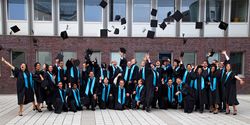 22 Absolventen der Northern Institute of Technology Management Class 10 aus 15 Nationen haben am 10. September ihre Abschlusszertifikate nach ihrem anspruchsvollen Doppelstudium am NIT und an der TUHH erhalten. Die feierliche Übergabe der Abschlusszertifikate, die die Absolventen traditionell in Talar und Barett entgegennahmen, stand im Mittelpunkt der Graduation Ceremony im Audimax II, die NIT-Geschäftsführer Dr. Christoph Jermann und TUHH-Präsident Professor Edwin Kreuzer eröffneten.
Die Festrede hielt Peter Gresch, Mitglied der Geschäftsführung der Brose Fahrzeugteile GmbH & Co. Auf dem Programm standen ferner die Verleihung des DAAD-Preises und erstmals des von der Liebich-Stiftung finanzierten Studienpreises.
Seit zehn Jahren führt das Doppelstudium zum Master of Science in Ingenieurwissenschaften an der TUHH und dem MBA in Technology Management am NIT.
Die größte internationale Gruppe bildete 2010 die südamerikanischen Studierenden, darunter acht aus Mexiko. Unter den Gästen war auch der mexikanische Konsul Frank K. Westermann. Auf Initiative der Absolventinnen Diana Lima Sagui, Ana Lucia Cavazos und Paola Núnez wurde im vergangenen Mai in Hamburg am NIT das deutschlandweite Netzwerk "Red de Talentos Mexicanos en el Exterior" gegründet mit dem Ziel, einer stärkeren Zusammenarbeit in Wissenschaft und Wirtschaft. Das vom mexikanischen Außen,-Wirtschafts- und Wissenschaftsministerium geförderte Netzwerk gibt es bereits in China, Indien, Neuseeland und Schottland und nun erstmals auch in Europa.
Zum Zeitpunkt der Graduation Zeremonie haben sich bereits wieder 32 Studierende aus 15 Ländern für das Doppelstudium eingeschrieben. Der Immatrikulation voraus geht ein umfassendes Auswahlverfahren.
Das englischsprachige Studium bildet künftige Führungskräfte für die internationale Wirtschaft aus, die dann sowohl ingenieurwissenschaftliche als auch wirtschaftliche Fragestellungen beherrschen. Die Teilnehmer profitieren vom internationalen Netzwerk der TUHH wie auch des NIT an exzellenten Dozenten aus Wissenschaft und Praxis im ingenieurwissenschaftlichen wie im wirtschaftlichen Bereich.
Die meisten NIT-Absolventen arbeiten zunächst im jeweiligen Sponsorunternehmen (42 Prozent), weitere 40 Prozent werden von anderen Unternehmen weltweit engagiert und 18 Prozent streben eine Promotion an. Harvard, München, St. Gallen sind Universitäten, die NIT-Absolventen zur Promotion angenommen haben.
Die moralische Dimension von Wirtschaft zu thematisieren, war seit Gründung ein Anliegen des NIT. Heute stellen zunehmend mehr Business-Schulen Fragen nach der Integrität von Führungskräften und thematisieren Moral und Ethik in der Wirtschaftswelt. So gehören zum internationalen Kreis der 40 NIT-Dozenten, Professoren von 15 Universitäten sowie erfahrene Praktiker aus dem In- und Ausland, stets auch namhafte Experten, wie der in den USA lehrende Philosoph Vittorio Hösle. Betriebswirtschaftliche Grundlagenfächer ("Management Skills") bilden mit 60 Prozent den Schwerpunkt in der Management-Ausbildung, 25 Prozent der Lehrinhalte sind dem Allgemeinwissen ("Leadership Skills") der ausgewählten Studierenden aus aller Welt gewidmet, und der Rest gilt dem Erwerb der deutschen Sprache oder einer anderen Sprache ("Language Skills).
Für Rückfragen:
Dr. Christoph Jermann
NIT-Geschäftsführer
Tel.: 040/42878-3835
E-Mail: jermann@nithh.de

Bärbel Witt:
NIT-Kommunikation
Tel.: 040/42878-3569
E-Mail: baerbel.witt@nithh.de
---
TUHH - Public Relations Office
Jutta Katharina Werner
E-Mail: pressestelle@tuhh.de