Mein erster Arbeitsplatz:
Patrick Un arbeitet als Researcher bei der SAP AG in Zürich
25.08.2010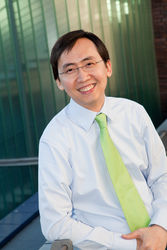 Studium - und was kommt dann? Wir stellen in dieser Woche drei von mehr als 300 Absolventen 2010 der TUHH vor und beginnen diese kleine Serie mit: Patrick Un. Zur Absolventenfeier im Juni war der junge Ingenieur an seine Alma Mater zum ersten Mal nach Abschluss seines Studiums im vergangenen Herbst wieder zurückgekehrt, um wenige Stunden später schon wieder im Flugzeug zu sitzen, das ihn nach Zürich brachte. Dort hat Patrick Un seinen ersten Arbeitsplatz in der Schweizer Zentrale des Weltkonzerns SAP gefunden.
Eigentlich wollte Patrick Un Medizin studieren. Die Aussicht auf lange Wartesemester hat ihn jedoch abgeschreckt. Da er in der Schule immer auch ein großes Interesse an den Naturwissenschaften hatte, plante er zunächst ein Physikstudium, verwarf jedoch auch diese die Idee, weil ihm der praktische Bezug in diesem Studium fehlte. So entschied er sich für die Ingenieurwissenschaften und ein Studium an der TUHH.
Der Bachelorstudiengang "Information and Technologies" schien für ihn die perfekte Kombination aus Wissenschaft und Praxis. "Besonders gut gefallen hat mir an der TUHH die Vielfalt des Fächerangebots innerhalb dieses Studiengangs. Zu jeder theoretischen Einheit wurde außerdem auch immer ein praktischer Teil angeboten", sagt Un, der als Schüler mit seinen Eltern aus Hongkong nach Hamburg kam. Die TUHH möchte er auch deshalb als Studienort weiter empfehlen, weil er die Betreuung durch die Dozenten als vorbildlich erlebt hat.
In seiner Masterarbeit mit dem Titel "On the Extension and Integration of Existing SAP Enterprise Services in the Context of SOA4All '' entwickelte Patrick Un einen Automatismus, der so genannte Enterprise Services im Internet besser auffindbar macht. Die Arbeit entstand im Rahmen des EU Projektes "SOA4all" unter der Leitung von Prof. Ralf Möller am Institut für Softwaresysteme und erfolgte in Zusammenarbeit mit der SAP AG.
Patrick Un wurde nach dem Studium direkt von der SAP AG übernommen. "Absolventen von der TUHH genießen einen guten Ruf", sagt der Ingenieur, dem seine gerade hinter ihm liegende Studienzeit noch sehr gut in Erinnerung ist, vor allem auch die wirtschaftlich knappen Zeiten. "Ich bin ein Fan des NDR-Sinfonieorchesters und musste mir das Geld für Karten zum Besuch der Konzerte immer hart ersparen", sagt er. Mit seinem ersten Job als Researcher bei der SAP AG gehören auch diese Zeiten der Vergangenheit an und Konzertbesuche weiterhin zu den Freizeitvergnügen des 27-jährigen Ingenieurs.
---
TUHH - Public Relations Office
Jutta Katharina Werner
E-Mail: pressestelle@tuhh.de