Sonnenschein und strahlende Gesichter:
6. Absolventenfeier auf dem Campus der TUHH
28.06.2010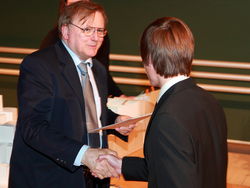 Strahlende Gesichter, Händeschütteln und die feierliche Übergabe der Urkunde - 183 von 300 Absolventen der Jahrgangsstufe 2009/10 sind am vergangenen Freitag, 25. Juni, noch einmal an ihre Alma Mater zurückgekehrt, um bei der 6. Absolventenfeier an der TUHH ihre Urkunde zum Bachelor of Science, Master of Science oder Diplom in den Ingenieurwissenschaften entgegenzunehmen.
Der Präsident der TUHH, Prof. Dr.-Ing. habil Edwin Kreuzer, begrüßte die mehr als 600 Gäste im Audimax - darunter Hamburgs Wissenschaftssenatorin Dr. Herlind Gundelach sowie die Bürgerschaftsabgeordnete Karin Koop (CDU) und August Henningsen, Vorstandschef der Lufthansa Technik AG und Mitglied des TUHH-Hochschulrats - und beglückwünschte den Ingenieur-Nachwuchs zum Erfolg: "Hinter ihnen liegt ein anstrengendes und forderndes Studium, mit dem sie bestens für zukünftige Aufgaben gerüstet sind."
Mit ihrer soliden Ausbildung an der TUHH hätten die Absolventinnen und Absolventen eine sehr gute Basis für Tätigkeiten, die von der Forschung und Entwicklung bis zum Vertrieb und technischen Management reichten. TUHH-Absolventen seien gleichfalls auf die das Berufsleben heute kennzeichnenden Wechsel - des Arbeitgebers, der Einsatzorte und der Aufgaben - gerüstet. "Ingenieure mit universitärer Ausbildung sind gefragt", sagte der Unichef. Dies vor allem deshalb, weil häufig nicht starke Spezialisierung, sondern hervorragendes Grundlagen- und Methodenwissen gefordert wird. So attestierte Kreuzer dem Nachwuchs hervorragende Chancen auf dem Arbeitsmarkt. Auch wenn in Einzelfällen Personalabteilungen Zurückhaltung zeigten, seien Ingenieure trotz der "immer noch wahrnehmbaren Nachwirkungen der Wirtschaftskrise" gesucht.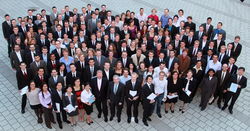 Auch Festredner Dr.-Ing. Hermann Klein, Mitglied des Vorstands der Germanischen Lloyd AG, verwies immer wieder auf die vergleichsweise guten Arbeitsmarktchancen verbunden mit attraktiven Einstiegsgehältern für Ingenieure und führte in seiner heiter vorgetragenen Festrede "Engineering - Quo vadis?" eindrucksvoll vor Augen, wo das Wissen der Ingenieure national und international vor allem auch in Zukunft gebraucht werde: Den Klimawandel und das Bevölkerungswachstum nannte er dabei an erster Stelle. Aufgaben und gesellschaftspolitische Herausforderungen, die ohne das Wissen der Ingenieure nicht gelöst werden könnten. "Wir sind auf der Suche nach Innovationen für das Leben von morgen", sagt Klein und an den ingenieurwissenschaftlichen Nachwuchs gewandt, zählte er auf, worauf es im Beruf vor allem ankomme: Von ihnen wird Flexibilität erwartet, gefragt sind "Teamplayer" überhaupt Menschen, die den Blick nach vorne richten, in der Lage sind, in wirtschaftlichen Kategorien zu denken, über interkulturelle Kompetenz und Sprachkenntnisse verfügen und auch Phantasie mitbringen.
Den größten Hörsaal der TUHH, das Audimax I, als Stätte studentischen Wirkens hatte Absolventensprecher Christian Lukianto in den Mittelpunkt seiner Rede gestellt. An dem Ort, an dem am Tag der Absolventenfeier größte Freude herrschte, hätte in den zurückliegenden Studienjahren so mancher angehende Ingenieur leidvolle Prüfungsqualen erlebt. Gleichzeitig sei der größte Hörsaal der TUHH immer auch der Ort für mitreißende Vorlesungen wie aber auch in Stil und Inhalt eher zum Dahindämmern geeignete Dozentenbeiträge gewesen. Nicht zuletzt hätte auch die Kultur in Form von Konzerten, Theateraufführungen und Vorträgen zu aktuellen gesellschaftspolitischen zum Studium an der TUHH gehört, und auch hier sei das Audimax I Ort des Geschehens gewesen.
Zwischen den Wortbeiträgen Kreuzers, Kleins und Lukiantos sang der Chor an der TUHH SINGING., bevor im zweiten Teil der Feier im Audimax unter dem Beifall der Gäste jeder Einzelne der 183 Absolventen und Absolventinnen persönlich seine Urkunde vom jeweiligen Studiendekan seines Studiengangs entgegennahm. Und ganz zum Schluss gab es aus der Hand von Professor Arne Jacob eine schmucke Kaffeetasse, die ein Foto vom TUHH-Campus ziert, verbunden mit der herzlichen Einladung, den Kontakt zur Alma Mater künftig auch durch eine Mitgliedschaft im Alumni-Verein der TUHH zu pflegen.
---
TUHH - Public Relations Office
Jutta Katharina Werner
E-Mail: pressestelle@tuhh.de