Das große Treffen - Austauschstudenten des Erasmus Student Network (ESN) erobern vom 11. bis 13. Juni Hamburg.
10.06.2010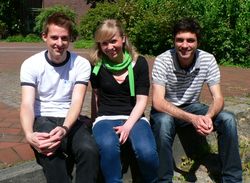 Sie kommen mit Bus und Bahn, Fahrrad oder Mitfahrgelegenheit. Aus München, Dresden, Frankfurt oder Rostock. Rund 600 internationale Austauschstudenten des Erasmus Student Network (ESN) treffen sich vom 11. bis 13. Juni zum Kennenlernen, Spaß haben und Stadt erkunden in Hamburg. Es ist die zweite nationale Großveranstaltung der europäischen Studentenaustauschorganisation, zu der sich die 23 deutschen Hochschulsektionen unter dem Motto "ESNters the City" versammeln. Nach der erfolgreichen Premiere im vergangenen Jahr in Berlin steht jetzt ein Wochenende an der Elbe auf dem Programm. Auftakt ist am 11. Juni die große Welcome-Party im Veritas Beachclub im Harburger Binnenhafen.
Für Felix Hörnle, Kornelia Homann und Christian Schneider von der Mentor AG an der TUHH ist das Festwochenende Heimspiel und Herausforderung zugleich. Als Mentoren kümmern sich die drei TUHH-Studierenden ehrenamtlich um die internationalen Harburger Gaststudenten, "und da die Mentor AG zugleich die Hamburg-Sektion von ESN Deutschland ist, haben wir diese "ESNters the City"-Veranstaltung organisiert", sagt Felix Hörnle. Der Baden-Württemberger absolviert ein Doppelstudium an der TUHH in Mechatronik und am Northern Institute of Management in Management Technology und engagiert sich bereits seit fünf Jahren in der AG.
Die Planungen dafür laufen seit Wochen. "Zuerst haben wir an den deutschen ESN Partner-Unis Werbung für das Wochenende gemacht, dann die Unterkünfte für die angemeldeten Teilnehmer gebucht und uns außerdem um Vergünstigungen für Hafenrundfahrten und bestimmte Bars gekümmert", erzählt Hörnle. "Für den individuellen Kiezbummel am Samstagabend erhalten alle Teilnehmer außerdem einen von uns selbst verfassten kleinen Führer, mit Tipps und Empfehlungen für Clubs und Bars", ergänzt Kornelia Homann, die im vierten Semester Bauingenieurwesen und Umwelttechnik studiert.
"Insgesamt ist es ein ziemlich strammes Programm", sagt Christian Schneider, der Energie- und Umwelttechnik an der TUHH studiert. "Egal, ob die Gäste nun den Insidertipps der TUHH-Studenten folgen oder lieber auf eigene Faust die Stadt erkunden, spätestens gegen zwei Uhr sollen sich Samstagnacht wieder alle auf St. Pauli in der Große Freiheit 36 zur nächsten Party einfinden, bevor es Sonntagmorgen gemeinsam auf den Fischmarkt geht." Und wenn alles gut läuft, wird das Fest im nächsten Jahr wiederholt.
Zu seiner Motivation sagt er: "Auslandsaufenthalte sind sehr intensive und prägende Erlebnisse und deshalb möchte ich dazu beitragen, die Zeit in Hamburg für die den internationalen Studierenden so erlebnisreich wie möglich zu gestalten." Für Kornelia Homann ist ihr Engagement "eine willkommene Abwechslung" zum technischen Studium. Zudem sei der Austausch zwischen verschiedenen Kulturen in der heutigen Zeit "sehr wichtig", und die beste Chance, seine eigenen Fremdsprachenkenntnisse aufzufrischen und zu erweitern. "Ein Leben ohne Internationalität kann ich mir nicht mehr vorstellen," sagt Felix Hörnle, der vor Beginn seines Studiums eine sechsmonatige Weltreise machte. Sein Ziel: An der TUHH den interkulturellen Austausch stärken und ausländischen Studierenden in Deutschland Hamburg als "Tor zur Welt" zu präsentieren.
http://esnters.esngermany.org/
http://www. hamburg.esngermany.org/
---
TUHH - Public Relations Office
Jutta Katharina Werner
E-Mail: pressestelle@tuhh.de