Internet der Zukunft
Mobilfunkexperte Andreas Timm-Giel neuer Professor an der TU Hamburg-Harburg
14.05.2010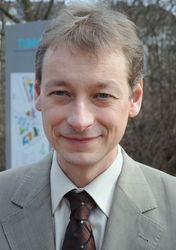 Prof. Dr.-Ing. Andreas Timm-Giel hat den Lehrstuhl Kommunikationsnetze und die Leitung des gleichnamigen Instituts an der TU Hamburg-Harburg (TUHH) übernommen. Der 42-jährige wird seine Forschung auf die Bereiche Mobilfunksysteme und Internet der Zukunft fokussieren. Ein weiterer Schwerpunkt sind die selbstorganisierenden Sensor- und Adhoc-Netze. So ist Timm-Giel auch im interdisziplinären Team des TUHH-Forschungsschwerpunktes "Selbstorganisierende Sensor- und Datenfunknetze" vertreten.
Der Wissenschaftler wird an der TUHH sowohl an Grundlagen forschen als auch in industrierelevanten Feldern. Zudem will er seine Forschungsergebnisse direkt in der Praxis anwenden, beispielsweise im Notfallmanagement und der Telemedizin. In der Lehre übernimmt Timm-Giel die Vorlesungen über Rechner- und Kommunikationsnetze sowie über Verkehrstheorie und koordiniert drei internationale Studiengänge: "Information and Communication Systems", "Information and Media Technology" und "Communication and Information Technology".
Timm-Giel hat in Bremen Elektrotechnik/Informationstechnik studiert und 1999 über die Modellierung von Funkkanälen promoviert. Danach wechselte der gebürtige Hamburger als Projektleiter zur MediaMobil Communication GmbH, wo er im Rahmen eines internationalen Joint Ventures (M2SAT) als Manager Network Operations und als technischer Produktmanager maßgeblich am Aufbau des M2SAT-Satellitensystems beteiligt war: M2SAT konnte in der Nische der mobilen Satellitenkommunikation über gemietete Satelliten, eigene Terminals und eine eigene Bodenstation, flexible Dienste und vergleichsweise hohe Datenraten für mobile Anwender anbieten.
2002 kehrte Timm-Giel in die Wissenschaft zurück und forschte bis zur Rufannahme an die TUHH als Gruppenleiter am Lehrstuhl für Kommunikationsnetze der Universität Bremen. In dieser Zeit war er an einer Vielzahl von Forschungsprojekten der Deutschen Forschungsgemeinschaft sowie der EU und des Bundesministeriums für Bildung und Forschung beteiligt. Er forschte auf verschiedenen Gebieten der Kommunikationsnetze - von der Dimensionierung von Mobilfunknetzen über das Routing und die Mobilität in Sensor- und drahtlosen Netzen sowie der Fahrzeugkommunikation bis zum Internet der Zukunft. Dort eingesetzte Technologien finden sich zum Beispiel in der Logistik, der Telemedizin und dem so genannten Wearable Computing, Minicomputern, die in Textilien eingelassen werden, wieder. Von 2006 bis 2009 war er zusätzlich als Geschäftsführer im Technologiezentrum Informatik und Informationstechnik der Universität Bremen für das Leitthema "Adaptive Kommunikation" zuständig.
Timm-Giel forschte 2006 an der Stony Brook University in New York und 2007 am Cork Institute of Technology in Irland. Mit beiden Einrichtungen bestehen enge Kooperationen, die an der TU Hamburg-Harburg in Forschung und Lehre weitergeführt werden.
Andreas Timm-Giel ist verheiratet und hat zwei Töchter, fährt gern mit seinem Liege-Rad und erholt sich mit seiner Familie auf Reisen im eigenen Wohnmobil.
Kontakt:
Institut für Kommunikationsnetze
Prof. Dr.-Ing. Andreas Timm-Giel
Tel.: 040/ 42878-3049
E-Mail: timm-giel@tuhh.de
---
TUHH - Public Relations Office
Jutta Katharina Werner
E-Mail: pressestelle@tuhh.de