Northern Institute of Technology an der Spitze des "Mai Bangkok Business Challenge 2010"
10.03.2010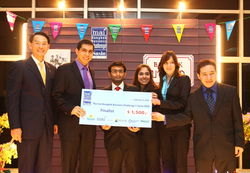 Fünf Hamburger Studierende beeindruckten die Jury des internationalen Unternehmens-Planspiels mit technischen und betriebswirtschaftlichem Wissen - und einer pfiffigen "grünen" Idee
Riesenerfolg für das Hamburger Northern Institute of Technology (NIT) in Thailand: Beim "Mai Bangkok Business Challenge", einem der führenden internationalen Wettbewerbe auf dem Gebiet der Unternehmens-Planspiele, haben es fünf Studierende des NIT bis in die Spitze geschafft: Karthik Ramesh, Miguel Velez, Ricardo Martinez, Ana Sianez, Ana Lucia Cavazos erreichten als einziges europäisches Team Ende Februar das Finale.
Das fünfköpfige Team gewann vier Awards, mehr als jede andere Teilnehmergruppe. Die angehenden Technologie-Manager des NIT wurden für den besten Business-Plan sowie die beste Präsentation ausgezeichnet und erhielten größte Anerkennung für die konsequente Umsetzung nachhaltiger Ziele in ein technisches Produkt, einem umweltfreundlichen Ladegerät für verschiedene elektronische Geräte zum Beispiel Handys. Damit siegte in diesem Spitzenwettbewerb im Februar 2010 zum ersten Mal ein Team eine deutsche Universität.
"Der Erfolg zeigt, dass das NIT auf dem richtigen Weg ist mit seiner bundesweit einzigartigen doppelten Ausbildung, einerseits einem ingenieurwissenschaftlichen Studium an der TUHH und andererseits einem betriebswirtschaftlich orientierten Studium am NIT, in dem Ethik und Nachhaltigkeit ganz oben auf Agenda stehen", sagte NIT-Geschäftsführer Dr. Christoph Jermann.
Die NIT-Studierenden aus Hamburg konkurrierten mit 55 Teilnehmern bekanntester Business-Schulen aus 15 Ländern wie der französischen INSEAD, der spanischen IE Business School, der US-Rice University und US-Cornell University, dem indischen IIM und ISB sowie der Mannheim Business School, der australischen Queensland University of Technology sowie der NTU Singapore.
"Für uns bot dieser Wettbewerb die einmalige Chance, unsere in drei Semestern am NIT und an der TUHH erworbenen Qualifikationen unter Beweis zu stellen", sagte Karthik Ramesh. Er absolviert an der TUHH ein Masterstudium in "Microelectronics and Microsystems" und wird noch in diesem Jahr sein Doppelstudium abschließen. "Entscheidend für unseren Erfolg war die Qualität der internationalen Managementausbildung am NIT sowie die Begeisterung und Unterstützung, die wir während des Wettbewerbs durch die NIT-Leitung erfahren haben", sagte Ramesh. Begleitet wurde das internationale Team von Prof. Dr. Wolfgang Bauhofer, Präsident des NIT.
Für Rückfragen:
Northern Institute of Technology
Bärbel Witt
Coordinator Public Relations and Marketing
Tel.: 040/ 42878-3569
E-Mail: baerbel.witt@tu-harburg.de
---
TUHH - Public Relations Office
Jutta Katharina Werner
E-Mail: pressestelle@tuhh.de