Lebhafte Diskussion an der TUHH mit Microsoft-Vize Jon DeVaan
22.10.2009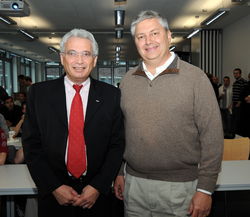 Einblicke in die Entwicklung des Windows-Betriebssystems haben alle erhalten, die am Mittwoch, 21. Oktober, an der TUHH den Vortrag des Senior Vice President von Microsoft, Jon DeVaan, verfolgten. Der Chefentwickler, ein studierter Mathematiker und Informatiker, erläuterte vor einer interessierten Zuhörerschaft im Raum 2022 die Kunst des Projektmanagements am Beispiel der Entwicklung von Windows 7.
Etwa 1000 Microsoft-Mitarbeiter, hauptsächlich in den USA und Indien, sind an der Entwicklung dieses komplexen Systems beteiligt gewesen, die in drei Phasen verläuft, die sich solange wiederholen, bis das Produkt fertig ist: In der ersten Stufe arbeiten Gruppen bis zu 40 Mitarbeitern an den einzelnen Säulen der zukünftigen Software, danach findet in der zweiten Phase die Qualitätsprüfung bei der Integration der Säulen statt, und am Ende steht das Softwareprodukt. Anschließend werden diese Phasen wiederholt udn dadurch das Produkt immer weiter verfeinert. "Plan the work und work the plan!", sei das Leitmotto, sagte DeVaan. Dabei wurde auch betont, welche Bedeutung Microsoft heute dem Thema Sicherheit und dem Security Development Lifecycle beimisst.
Die Diskussion im Anschluss an Jon DeVaans Vortrag eröffnete Prof. Dr. Ralf Möller mit der Frage, welche Forschungsschwerpunkte in der Informatik aus Sicht des Weltunternehmens zukunftsweisend seien und welche Kenntnisse von Absolventen der Informatik erwartet werden. Die einmalige Gelegenheit, mit einem der führenden Manager von Microsoft in einen Dialog zu treten, hatten sich auch andere Hochschullehrer und Studierende nicht entgehen lassen und sich lebhaft an der etwa 30-minütigen Diskussion beteiligt. Zu Beginn der einstündigen Veranstaltung hatte Vizepräsident Prof. Dr. Garabed Antranikian den hohen Gast begrüßt und mit Blick auf die Studierenden im Saal auf die Bedeutung der Mathematik im Studium der Ingenieure sowie für die spätere Karriere hingewiesen: Jon DeVaan hat Mathematik und Informatik an der University of Oregon studiert, und ist einer der Technikbegeisterten unter den Microsoft-Managern. Er ist seit 22 Jahren bei Microsoft tätig und dort für die Software-Architektur sowie die zentralen Software-Komponenten von Windows 7 verantwortlich.
---
TUHH - Public Relations Office
Jutta Katharina Werner
E-Mail: pressestelle@tuhh.de