Zehn Jahre Lehre am NIT Northern Institute of Technology Management der TU Hamburg-Harburg
Ethik als Pflichtfach in der Ausbildung zum Technologiemanager
18.09.2009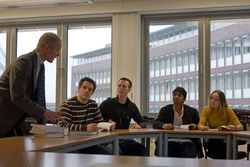 Ein bundesweit einzigartiger Studiengang feiert Geburtstag: Seit zehn Jahren bietet das NIT Northern Institute of Technology Management der TU Hamburg-Harburg sein Doppelstudium zum Technologiemanager an. In zwei Jahren erwerben ausgewählte Studierende aus aller Welt zwei Abschlüsse: den Master of Science in Ingenieurwissenschaften an der TU Hamburg und den MBA in Technology Management am NIT.
Knapp 300 junge Menschen haben seit Beginn der Lehre im September 1999 am NIT das moralische Rüstzeug für einen verantwortungsbewussten Beitrag in der Gesellschaft erhalten. Heute werden die Absolventen der Class 09 im feierlichen Rahmen der sogenannten Graduation Ceremony verabschiedet. Sie verfügen sowohl über eine Expertise als Ingenieur als auch über Management-Know-how, Führungs- und Sozialkompetenz sowie interkulturelle Kenntnisse.
Als Modell einer Public-Private-Partnership wurde das NIT in den 90er-Jahren bundesweit schnell Vorreiter für die Internationalisierung im Hochschulbereich sowie für eine neue Form der Finanzierung öffentlicher Bildung. 1998 aus privaten Mitteln von 40 TUHH-Professoren gegründet, darunter auch der jetzige NIT-Präsident Wolfgang Bauhofer, behauptet sich das NIT im wachsenden Konkurrenzkampf durch die hohe Qualität in der Ausbildung wie auch durch eine Reihe von Besonderheiten: In zwei Jahren zwei Abschlüsse zu machen und sich in diesem Doppelstudium an einer staatlichen Universität und deren privater Business School für höhere Managementpositionen fortzubilden, ist einmalig. Dass das NIT schon 1999 seiner Zeit ein Stück voraus war, zeigt auch die frühe Einführung von Ethik als Pflichtfach.
Die moralische Dimension von Wirtschaft zu thematisieren, war seit Gründung ein Anliegen des NIT. Heute stellen zunehmend mehr Business-Schulen Fragen nach der Integrität von Führungskräften und thematisieren Moral und Ethik in der Wirtschaftswelt. So gehören zum internationalen Kreis der 40 NIT-Dozenten, Professoren von 15 Universitäten sowie erfahrene Praktiker aus dem In- und Ausland, stets auch namhafte Experten, wie der in den USA lehrende Philosoph Vittorio Hösle. Betriebswirtschaftliche Grundlagenfächer ("Management Skills") bilden mit 60 Prozent den Schwerpunkt in der Management-Ausbildung, 25 Prozent der Lehrinhalte sind dem Allgemeinwissen ("Leadership Skills") der ausgewählten Studierenden aus aller Welt gewidmet, und der Rest gilt dem Erwerb der deutschen Sprache oder einer sonstigen Fremdsprache ("Language Skills).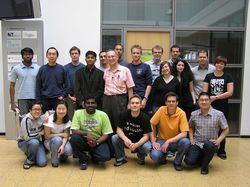 Die meisten NIT-Absolventen arbeiten zunächst im jeweiligen Sponsorunternehmen (42 Prozent), weitere 40 Prozent werden von anderen Unternehmen weltweit engagiert und 18 Prozent streben eine Promotion an. Harvard, München, St. Gallen sind Universitäten, die NIT-Absolventen zur Promotion angenommen haben.
Hamburger NIT-Partner sind außer der Airbus AG, ArcelorMittal GmbH, Körber AG, der Nordmetall-Verband der Metall- und Elektroindustrie, NXP-Semiconductors und die tesa AG
Bis zu 1000 Bewerbungen bekommt das NIT jedes Jahr, etwa die Hälfte davon wird zum Verfahren zugelassen, 35 sind schließlich erfolgreich. Die meisten Studierenden kommen aus Asien und Australien (41 Prozent), gefolgt von Lateinamerika, Westeuropa, Osteuropa, Afrika, Naher Osten und Nordamerika). .
Heike Mehler, bei Airbus Deutschland zuständig für die Manager-Studienförderung: "Absolventen des NIT sind besonders talentierte Nachwuchskräfte mit einem weltweiten Netzwerk. Beeindruckend ist auch der große Anteil junger Ingenieurinnen, die nach Abschluss dieses hochkarätigen Programms der Industrie für künftige Führungsaufgaben zur Verfügung stehen."
TUHH-Präsident Prof. Dr.-Ing. habil. Edwin Kreuzer: "Die Studierenden des NIT profitieren in hohem Maße vom Profil der TUHH und werden durch die Kombination von ingenieurwissenschaftlichem und betriebswirtschaftlichem Studium zu einer neuen Generation von Technologiemanagern."
NIT-Präsident Prof. Dr. Wolfgang Bauhofer: "Das NIT hat sich als gemeinnützige Institution zwischen Wirtschaft und Wissenschaft zu einem wichtigen Faktor bei der Bereitstellung hochqualifizierter Fachkräfte entwickelt."
NIT-Geschäftsführer Dr. Christoph Jermann: "Auch künftig wird es einen starken Bedarf nach international orientierten Ingenieuren mit Management-Fähigkeiten geben. Deshalb sieht das NIT seinem zweiten Jahrzehnt mit großem Optimismus entgegen."
Für Rückfragen:
Dr. Christoph Jermann
NIT-Geschäftsführer
Tel.: 040/42878-3835
E-Mail: jermann@nithh.de
Katja Rathje
NIT-Kommunikation
Tel.: 040/42878-3788
E-Mail: katja.rathje@nithh.de
See also: www.nithh.de
---
TUHH - Public Relations Office
Jutta Katharina Werner
E-Mail: pressestelle@tuhh.de