Ditze Preis
17.07.2009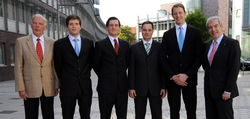 Die Hamburger Karl-Heinz-Ditze-Stiftung hat jetzt zum zehnten Mal den Karl-H.-Ditze-Preis an der TUHH für besondere Leistungen in den Ingenieurwissenschaften verliehen.

Die Preise wurden im Rahmen einer Feierstunde im Karl-H.-Ditze-Hörsaal vom Vorstandsvorsitzenden der Karl-H.-Ditze-Stiftung Dipl.-Kaufmann Heinz-Günther Vogel überreicht. TUHH-Präsident Prof. Dr.-Ing. Edwin Kreuzer begrüßte die Preisträger sowie weitere Gäste aus Wissenschaft und Wirtschaft.

Dr.-Ing. Thorsten Sokoll und Dr. Christoph Stockstrom erhielten für ihre viel beachteten Dissertationen jeweils 2000 Euro. Thomas Ingram sowie Henry Jonas wurden für ihre herausragenden Diplomarbeiten mit jeweils 1500 Euro ausgezeichnet.
Der traditionelle Preis für ein "innovatives studentisches Projekt" in Höhe von 3000 Euro ging in diesem Jahr an das TUHH-Team, der IEEE Student Branch.



Die Preisträger:

Dr.-Ing. Thorsten Sokoll
Titel der Dissertation: "Mikrowellensysteme für die in-situ-Feuchtemessung zur Bauwerksüberwachung"

Seit einigen Jahren werden bei steigender Tendenz mehr Mittel für die Bauwerkserhaltung als für Neubauten eingesetzt. Um den bestmöglichen Zeitpunkt für die Einleitung von Instandhaltungsmaßnahmen bestimmen zu können, sind geeignete Verfahren und Methoden zur Bauwerksüberwachung erforderlich. Thorsten Sokoll hat sich in seiner Dissertation speziell der Aufgabe gewidmet, Mikrowellensysteme für die in-situ-Feuchtemessung zur Bauwerksüberwachung zu konzipieren, zu realisieren und zu untersuchen.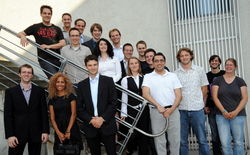 Dr. Christoph Stockstrom
Titel der Dissertation: "Projektplanung und -umsetzung von Innovationsprojekten"

Die Entwicklung neuer Produkte stellt eine hochkomplexe und mit erheblicher
Unsicherheit behaftete Aufgabe dar, die in vielen Branchen zusätzlich durch
ein sich dynamisch veränderndes Unternehmensumfeld erschwert wird.
In der empirischen Untersuchung wurden 137 Innovationsprojekte von deutschen Unternehmen aus den Branchen Maschinenbau, Elektrotechnik, Mess-, Steuer- und
Regelungstechnik, Optik und Fahrzeugbau analysiert. Die Ergebnisse zeigen,
dass die Projektplanung einen wesentlichen Erfolgsfaktor für das Gelingen
von Innovationsprojekten darstellt.

Thomas Ingram
Titel der Diplomarbeit: "Thermal and Thermal-Enzymatic Hydrolysis of Lignocellulosic Biomass for the Production of Bioethanol"

Die Arbeit wurde in englischer Sprache dokumentiert, um internationalen Partnern den Zugang zu erleichtern.
Die Arbeit beschäftigt sich mit den Grundlagen der zweiten Generation von Prozessen zur Herstellung von Bioethanol aus Lignocellulose. Speziell wurde als Ausgangsmaterial Roggenstroh herangezogen. Stroh ist ein weitgehend ungenutzter Rohstoff, der durch eine umweltfreundliche Umwandlung mit Wasser unter erhöhten Drücken und Temperaturen und einer dadurch ermöglichten verbesserten enzymatischen Umwandlung kostengünstig genutzt werden soll. Zielprodukte sind die Monomeren Zucker der Xylane (Xylose) und der Glucane (Glucose).

Henry Jonas
Titel der Diplomarbeit: "Entwicklung von modularen Produktstrukturen am Beispiel einer Flugzeug-Galley":

Noch werden Flugzeug-Bordküchen als Einzelteil entwickelt und hergestellt. Henry Jonas hat in seiner Diplomarbeit am Institut für Produktentwicklung und Konstruktionstechnik eine Modul-Bauweise entworfen. Das ist neu. Zudem hat der 26-Jährige die einzelnen Bestandteile eines jeden Moduls mit Hilfe einer von ihm entwickelten neuen Methode festgelegt. Diese kann außer für Bordküchen auch für die Entwicklung anderer industrieller Produkte eingesetzt werden. Modul-Bauweisen vereinfachen die Produktion und erlauben zudem Baukasten-Systeme zum Vorteil des Produzenten wie auch Verbrauchers.

IEEE Student Branch
Der Branch, gegründet im Juni letzten Jahres, hat inzwischen mehr als 20 aktive Mitglieder und zeichnet sich durch sehr großes Engagement, einen beachtlichen Erfolg, eine hohe Resonanz und Effizienz aus. Ziel ist, einen intensiven Informations- und Erfahrungsaustausch zwischen Studierenden, Professoren und Industriefirmen in der Elektrotechnik und Informatik zu fördern. So wurden im Mai 2009 eine erste Student-Konferenz mit über 70 Teilnehmern aus ganz Europa veranstaltet, sowie Gespräche mit Firmenvertretern organisiert. Stellvertretend für die Studentengruppe wird der Preis Matthias Heitz (Chairman der IEEE) überreicht.
---
TUHH - Public Relations Office
Ingrid Holst
E-Mail: pressestelle@tuhh.de