USA ehren Professor An-Ping Zeng
05.11.2008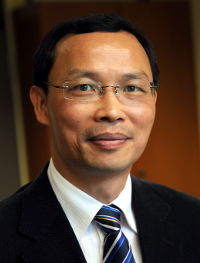 Prof. Dr. An-Ping Zeng ist in das "College of Fellow" des American Institute for Medical and Biological Engineering (AIMBE) berufen worden. Die feierliche Aufnahme und Ehrung erfolgt im Februar 2009 in Washington auf der Jahrestagung der AIMBE, einer der führenden amerikanischen Life Science-Verbände. Zeng leitet an der TUHH das Institut für Bioprozess -und Biosystemtechnik und ist ein international anerkannter Experte in dem noch jungen Wissenschaftszweig der Systembiologie.

Die Systembiologie sowie deren technische Anwendung (Systembiotechnologie) sind neue Forschungsgebiete der Lebenswissenschaften. Ziel ist zunächst auf der Systemebene ein besseres Verständnis der komplexen und dynamischen Vorgänge in der Zelle sowie in den Zellverbänden (Gewebe, Organe, Organismen) und deren Nachbildung am Computer. Auf der Basis der gewonnenen Erkenntnisse können die Funktion und Eigenschaften biologischer Systeme neu gestaltet und in der medizinischen Therapie rechtzeitig interveniert werden. An der TUHH wird die systembiologische Forschung sowohl für die Prozessentwicklung in der Biotechnologie als auch in der Biomedizin angewendet. Beispiele dafür sind die zwei vom Bundesministerium für Bildung und Forschung jeweils mit 2 Millionen Euro finanzierten Verbundprojekte "Systembiologie für Zellkulturen zur Produktion von pharmazeutischen Wirkstoffen (SysLogics)" und "Systembiologische Ansätze zur Entwicklung von Biofilm-Inhibitoren (BioInSys)". Zeng ist Koordinator für beide Verbundprojekte.

Zeng ist außerdem seit kurzem Mitglied des Organisationskomitees "2009 German-American Frontiers of Engineering Symposium". Das von der Alexander-von-Humboldt-Stiftung und der amerikanische National Academy of Engineering berufene Gremium hat die Aufgabe, ein für April 2009 in Potsdam geplantes Symposium vorzubereiten.
---
TUHH - Public Relations Office
Jutta Katharina Werner
E-Mail: pressestelle@tuhh.de