Gottfried von Bismarck zum Ehrensenator der TUHH ernannt
15.06.2004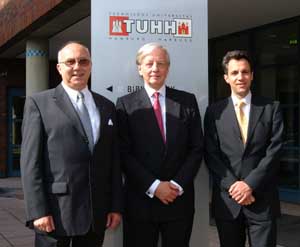 Dr.-Ing. Gottfried von Bismarck wurde heute im Rahmen eines Festaktes vom Hochschulsenat der Technischen Universität Hamburg-Harburg (TUHH) die Ehrensenatorenwürde verliehen. Von Bismarck wurde für seinen vorbildlichen Einsatz bei der Weiterentwicklung des Northern Institute of Technology (NIT) ausgezeichnet.

"Gottfried von Bismarck zeigt, dass es geht: Engagement und Behauptung im globalen Wettbewerb, die Motivation nach Vorne zu schauen und anzupacken, die richtigen Fragen zu stellen und nicht zu zerreden. Antworten finden im Dialog", würdigte der Präsident der TUHH, Dr.-Ing. Dr. h.c. Christian Nedeß den neuen Ehrensenator der TUHH.
"Industrieunternehmen brauchen zunehmend international einsetzbare Ingenieure mit einer praxisnahen Doppelqualifikation in Technik und Management. Gründungsidee der TU Hamburg-Harburg für das NIT war es, in Kooperation mit namhaften Industrieunternehmen ein entsprechendes exklusives Studienangebot für internationale High-Potentials zu schaffen. Nach fünf Jahren gibt der Erfolg den Gründungsvätern Recht. Im Mai berichtete die Financial Times ausführlich über das NIT, neben Hochschulen wie MIT, Oxford und Cambridge. Ich freue mich persönlich sehr darüber, dass ich seit Beginn an der Entwicklung des NIT mitwirken durfte, meine bisherigen Beiträge nun in dieser Form von der TUHH gewürdigt sehe - und auch in Zukunft die dynamische Weiterentwicklung des NIT mitgestalten darf", sagte Gottfried von Bismarck.

Dr.-Ing. Gottfried von Bismarck (62) studierte an den Universitäten Karlsruhe, Lehigh University, Bethlehem, Pa. / USA, und am Massachussetts Institute of Technology (MIT), wo er mit dem Master of Science in Electrical Engineering abschloss. Anschließend promovierte er an der TU München. Sein beruflicher Weg führte ihn über Unternehmen in den USA, die Krupp-Atlas-Elektronik GmbH in Bremen sowie die Ruhrkohle AG zur Körber AG in Hamburg, wo er seit 1985 arbeitet. Er ist heute Berater der Unternehmensleitung bei der Entwicklung neuer Geschäftsfelder.
Über seine Aktivitäten für die TUHH hinaus engagiert sich von Bismarck als
Vorsitzender der Landesgruppe Hamburg und des Beirates der Deutsch-Britischen Gesellschaft sowie als Mitbegründer und aktives Mitglied der Bürgerstiftung Hamburg für das Gemeinwohl unserer Stadt.

Bei der Feierstunde hielt Wissenschaftssenator Jörg Dräger, Ph.D. den Festvortrag unter dem Titel "Wer hat Angst vorm Wettbewerb? Mut zum Unterschied bringt Chancen für Hochschulen".
---
TUHH - Public Relations Office
Ingrid Holst
E-Mail: pressestelle@tuhh.de