Bundesweit einzigartig: Neuer Master-Studiengang Logistik, Infrastruktur und Mobilität in der Kühne School an der TU Hamburg-Harburg
17.07.2008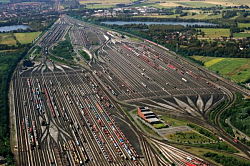 Die Kühne School of Logistics and Management an der Technischen Universität Hamburg-Harburg (TUHH) bietet zum Wintersemester 2008/09 erstmalig den Master-Studiengang Logistik, Infrastruktur und Mobilität (LIM) an. Das Einzigartige dieses universitären Masters of Science liegt in seiner technischen Ausrichtung und der gleichzeitigen Verknüpfung bisher separat betrachteter Bereiche: Logistik und Verkehr sowie Gütertransport und Personenverkehr. Die Bewerbungsfrist für den Studiengang Logistik, Infrastruktur und Mobilität endet am 30. September 2008.

Die Mobilität von Gütern, Personen und der zeitnahe Informationsaustausch werden für Regionen und Unternehmen immer mehr zu strategischen Erfolgsfaktoren. Dies steht in einem Wechselverhältnis zu der notwendigen Infrastruktur auf Straßen und Schienen, in Seehäfen und Flughäfen und ist eng mit Politik und Planung verknüpft. Die Wirtschaft benötigt in den Sparten Logistik und Verkehr Absolventen, die querschnittsorientiert denken und technische Zusammenhänge heute oft weltweiter Netze analysieren und gestalten können. Dies setzt die integrative Betrachtung der Systeme Logistik, Infrastruktur und Mobilität voraus. Im Zentrum des Studiums steht die Steuerung und Gestaltung logistischer Systeme sowohl aus Sicht des einzelnen Unternehmens als auch aus gesamtwirtschaftlicher Perspektive.

Die Kühne School an der TUHH integriert mit dem neuen Studiengang LIM drängende Zeitfragen in die akademische Ausbildung. Gleichzeitig trägt sie damit den gestiegenen Anforderungen an die Gestaltung der wirtschaftlichen Arbeitsteilung und damit der logistischen Transportketten auch in Folge des Klimawandels sowie der Ressourcenendlichkeit Rechnung. Vermittelt wird das Verständnis für die komplexen Zusammenhänge von Mobilität und Logistik sowie deren Management in Zeiten knapper werdender öffentlicher Kassen.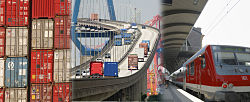 Der neue Studiengang ist ingenieurwissenschaftlich ausgerichtet. Gleichfalls sind die für die Steuerung komplexer logistischer Systeme unverzichtbaren wirtschaftswissenschaftlichen Kenntnisse fester Bestandteil des Curriculums. Die Studierenden sind in Forschungsvorhaben der an der Lehre beteiligten Wissenschaftler einbezogen und entwickeln durch die im Studium gewährleistete Interdisziplinarität zukunftsweisende Problemlösungs-Strategien. In den ersten drei Semestern werden Vorlesungen besucht und in Seminaren und Übungen die Studieninhalte vertieft. Das Lernen in Fallstudien nimmt während des gesamten Studiums einen breiten Raum ein. Im vierten Semester ist die Masterarbeit anzufertigen. Die Studierenden erhalten nach erfolgreichem Abschluss den Titel "Master of Science in Logistik, Infrastruktur und Mobilität" M.Sc. (LIM) der Technischen Universität Hamburg-Harburg.

Der innovative Studiengang steht Bewerbern offen, die einen Bachelor- oder höherwertigen Abschluss besitzen. Als Erststudium besonders geeignet sind Abschlüsse in Bauingenieurwesen, Maschinenbau, Allgemeine Ingenieurwissenschaften, Verkehrswesen, Logistik, Informatik und­- sofern Kenntnisse im Bereich Verkehr oder Logistik vorhanden sind - Betriebswirtschaft, Geographie und Stadtplanung.

Die Kühne School an der TUHH ist international ausgerichtet: Junge Menschen aus allen Kontinenten studieren auf dem modernen Campus im Süden der Metropole Hamburg. Die Hansestadt ist mit dem größten Seehafen und als Verkehrsknotenpunkt für alle Verkehrsträger ein idealer Studienort, der zahlreich Praxiskontakte ermöglicht.

Bewerbungsunterlagen:
http://www.tu-harburg.de/studium/immatrikulation/

Weitere Informationen:
http://www.tu-harburg.de/studium/programme/master/lim.html

Information und Studienberatung:

Dr. Andrea Drave
Projektmanagement
TUHH/Kühne School of Logistics and Management
Tel. 040/ 42878-3993
E-Mail: infoLIM@tuhh.de
---
TUHH - Public Relations Office
Jutta Katharina Werner
E-Mail: pressestelle@tuhh.de