TUHH-Student ausgewählt für Teilnahme an Harvard-Konferenz
10.08.2007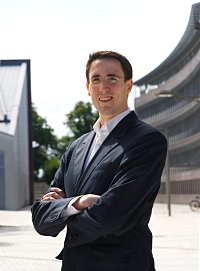 Als einziger Student einer Hamburger Hochschule ist Alexander Kowatsch von der Technischen Universität Hamburg-Harburg (TUHH) Teilnehmer der diesjährigen von der Harvard- Universität organisierten Konferenz "HPAIR – Harvard Projekt for Asian and International Relations". Der Hamburger wird gemeinsam mit 34 weiteren ausgewählten Studierenden deutscher Universitäten vom 24. bis 26. August in Hongkong an dieser Konferenz teilnehmen. Die 400 Teilnehmer sind Studierende aus aller Welt, die in Workshops und anderen Foren die Gelegenheit haben, sich mit Persönlichkeiten aus Politik, Wirtschaft und Bildung über verschiedene Aspekte der zukünftigen wirtschaftlichen Entwicklung Asiens sowie damit einhergehenden Herausforderungen auszutauschen.
Die von Harvard-Studenten der Fakultät für Kunst und Wissenschaft seit 1992 organisierte und jeweils im Sommer in einer asiatischen Metropole durchgeführte Konferenz will angehenden Führungskräften aus aller Welt ein Forum zur Auseinandersetzung mit für diesen Kontinent zentralen Themen bieten. "Ich freue mich, auf der Konferenz nicht nur geografisch und fachlich über den Tellerrand schauen, sondern auch Deutschland, Hamburg und die TUHH repräsentieren zu können", sagt Kowatsch. Mit seiner erfolgreichen Bewerbung ist er auch Mitglied des Deutschen Fördervereins SPAIR mit Sitz in Passau geworden, der im Vorfeld die Studierenden auf die Konferenz vorbereitet und sowohl ideele als auch finanzielle Unterstützung leistet.
Im Frühjahr 2008 will der TUHH-Student sein Studium zum Master of Science im Studiengang "International Production Management" abschließen. "Heute in einem Jahr möchte ich in einer Unternehmensberatung tätig sein oder alternativ eine Schnittstellenfunktion zwischen Technik und Wirtschaft in der Industrie begleiten", sagt der 25-Jährige. Berufsqualifizierende Erfahrungen hat der angehende Ingenieur während seines Studiums an der TUHH bereits gesammelt: Kowatsch ist aktives Mitglied einer der erfolgreichsten studentischen Unternehmensberatungen, der Hanseatic Consulting Studentische Unternehmensberatung e.V. Zurzeit absolviert er bei der Conergy AG in Hamburg, Branchenführer für erneuerbare Energien, ein Praktikum. "Ich bin überzeugt, dass die Energieversorgung eines der großen Themen in den nächsten Jahren sein wird", sagt er. In Hongkong wird er u.a. an einem Workshop über "Die Zukunft der Energie, Infrastruktur und Umwelt" teilnehmen.
---
TUHH - Public Relations Office
Jutta Katharina Werner
E-Mail: pressestelle@tuhh.de