Green materials for the future
Two TU Hamburg start-ups nominated for innovation award
18.04.2023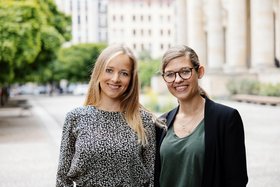 By 2030, CO2 emissions are to be reduced by 65 percent compared to 1990. To achieve this goal, alternative ways must be found to replace crude oil and natural gas. Innovation and inventiveness are in demand in the chemical industry. Two start-ups that have their origins at the Technical University of Hamburg were able to convince with both: COLIPI and Traceless Materials are the only German start-ups nominated for the innovation award "Renewable Material of the Year 2023". The award honors particularly exciting and promising solutions that help to successfully replace fossil carbon. At the "Renewable Materials Conference" on May 24 in Cologne, the nominated companies will present their products. The conference participants on site and online will then decide on the three award winners.
Hamburg start-ups convince
COLIPI develops innovative bioprocesses to convert CO2 into sustainable alternatives to vegetable oils such as palm oil. Its special feature is the patented gas fermentation bioreactor, which uses microorganisms to convert CO2-containing waste gases into carbohydrate-rich biomass. The yeast-oil fermentation process is thus CO2-neutral. The "green" oil can be used to mimic palm oil or cocoa butter, but also to develop entirely new oils without a natural model. "The diversity of the oils is also reflected in their application in creams, soaps or chocolates. In other words, everywhere where vegetable oils are also used today," says COLIPI project manager Max Webers.
www.colipi.com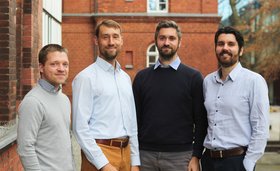 Founded by Anne Lamp and Johanna Baare, start-up Traceless Materials has developed a holistic sustainable alternative to conventional plastics and bioplastics, helping to solve global plastic pollution. The startup uses agricultural industry byproducts to produce a biomaterial that offers the beneficial properties of plastics while being fully compostable under natural conditions. Unlike conventional plastics and bioplastics, it requires no harmful additives, solvents or chemicals, saving up to 87 percent CO2 emissions.
www.traceless.eu
The Renewable Materials Conference 2023
After the second edition in 2022, the Renewable Materials Conference has established itself as one of the most important conferences for renewable materials worldwide. From May 23 to 25, 2023, experts from industry and science will meet in Cologne to discuss sustainable materials and present new approaches to solutions. The conference is hosted by the nova-Institut, which researches how raw materials for industry can be provided sustainably in the future.
Further information can be found at
www.nova-institute.eu
www.renewable-materials.eu
---
TUHH - Public Relations Office
Lena Bender
E-Mail: lena.bender@tuhh.de