3D printing meets soldering iron
Opening of the student workshop "SICK MAKERSPACE" at the TU Hamburg
27.03.2023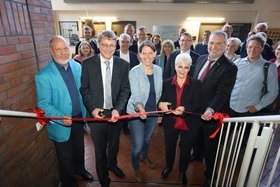 Metal saws, screwdrivers and cross chisels can be found in any well-stocked workshop. But what about 3D printers, 3D scanners and laser cutters? In the completely renovated student workshop at the Technical University of Hamburg, students now have the opportunity to gain experience with modern manufacturing processes in their own and university projects. The ceremonial opening of the SICK MAKERSPACE at the TU Hamburg took place on March 27.
Thanks to the promised funding of 440,000 euros over five years from the Gisela and Erwin Sick Foundation, it was possible to realize the workshop with mechanical tools and modern additive manufacturing possibilities. Here, students can acquire and further develop craft skills related to their engineering studies. In addition to a 3D printer pool, there is a metal workshop, a carpentry workshop, a machine room and a mechatronics teaching room. "MAKERSPACE is a new place for experiential learning," said Andreas Timm-Giel, president of TU Hamburg. "Thanks to the Gisela and Erwin Sick Foundation, students can experience hands-on teaching here as well as implement their own student projects."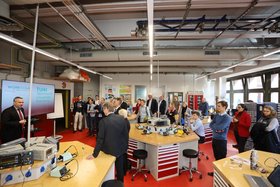 At Hamburg Technical University, the foundation has already been involved for many years with the SICK Science Award and with German scholarships. At the opening of the student workshop, Renate Sick-Glaser, Chair of the Foundation Council, cut the red ribbon together with the President. "Through the foundation, I am delighted to be able to provide students with a place where they can also put their knowledge to practical use and test cutting-edge technologies such as 3D printing for themselves," said Sick-Glaser, daughter of foundation founder Gisela Sick. The funding provided by the Gisela and Erwin Sick Foundation made it possible, above all, to expand the necessary instrumental infrastructure and to provide technical trained staff to accompany the students' work. After the opening, Professor Thorsten A. Kern, Head of the Institute for Mechatronics in Mechanical Engineering and Scientific Coordinator of the new high-tech workshop, gave a tour of the new facilities. "Aspiring engineers∗ need to experience with all their senses how decisions in a development process affect a product. Good courses convey the effects of decisions, and a protected space like the SICK MAKERSPACE allows the comprehensive experience to do so," Kern said.
The Foundation
The Gisela and Erwin Sick Foundation was established in 2002 by Gisela Sick, the widow of Dr.-Ing. e. h. Erwin Sick, the founder of SICK AG. Since then, the founder has dedicated herself to a comprehensive education of young people that goes far beyond the imparting of technical knowledge. In recognition of her late husband's life's work, Gisela Sick places a special focus on the natural sciences and technology in her foundation activities. At Hamburg Technical University, the foundation has been involved for many years, in particular by awarding science prizes and sponsoring numerous German scholarships.
Further information at https://www2.tuhh.de/zll/workinglab/
---
TUHH - Public Relations Office
Lena Bender
E-Mail: lena.bender@tuhh.de